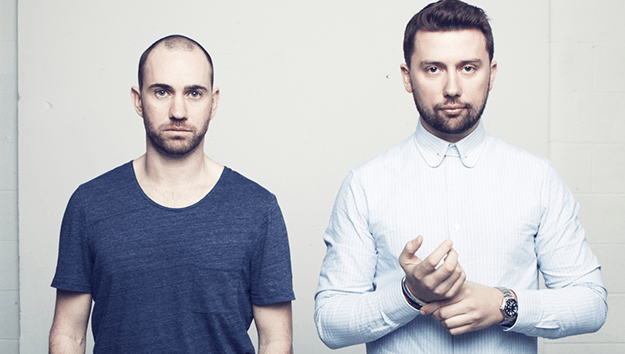 Interview with PBR Streetgang
The name of this Leeds based duo, PBR Streetgang, is a reference to a late 70′s American war movie by the name of Apocalypse Now. Their interest in the 70′s can be clearly heard in their music as well. Disco and other early forms of house make up most of their productions and DJ sets. When they earned an Ibiza residence at We Love Space in 2010, they found themselves taking giant steps in their careers and they have not slowed down since. Soon they return to one of their former stomping grounds, Asylum in Leeds, to play the last ever party and 10th birthday with the likes of Kerri Chandler on 26th October and also play at AIR during ADE with TEED, Duke Dumont, Benoit & Sergio and many more.

What's your best memory of Amsterdam?
Tom: I have two fond memories of visiting Amsterdam, the first being around fifteen years ago when I came for the first time, I totally fell in love with the place, I remember going to the Supper club and going "wow this is crazy"!!. The next being our first gig which happened last October when we played at AIR, what a great party! The club, the sound system, the crowd, and the hospitality was fantastic, we are definitely big fans of Amsterdam.

While we are on topic of travel and we have still not been to Leeds yet (definitely towards the top of our list of places to visit!) can you recommend a favorite place to eat?
Tom: hmm food! ok If you are meat eater there is a great new barbecue rib place called 'reds', the food is great and the portions are huge… it's rocks!

With all the experience you both have had individually and as a team at so many venues and parties throughout the globe can you describe what your ideal dance club would be like?
Tom: good questions, I would say something very small and intimate no more than two hundred capacity, low ceilings, custom made sound system, minimal lighting, amazing dj booth with a rotary mixer, great cocktail list, and lastly all our dj friends to play back to back with… that sounds like heaven right!?

It certainly sounds like heaven! If you were stranded in an Island with only a great sound system/record player and you could only choose one EP on vinyl to play, which would you guys pick at moment?
Bonar: If it was a desert island then it would have to be " Begin – Here Comes The Sun"

We recall reading about you guys having your own parties at some point this year, that sounds like it will be huge! Can you share any details at this time?
Tom: Yes we are going to start them next year, we both have years of promoting experience so it makes sense to do our own thing. The aim is to do around three or four parties in different cities and venues in Leeds, London, and beyond. The key emphasis will be on production, sound, and generally fun, we want to involve our dj friends as well as our hero's to play alongside us….watch this space!

Overall in both mixing and producing what would you say is your favourite piece of equipment currently ?
Bonar: Dj wise we have really been enjoying using the Pioneer RMX1000 at our gigs and in the Studio I recently bought a vintage "Jen SX1000″ which is a lot of fun too!
As some of us here at Deep House Amsterdam are big fans of the UK Garage/4×4 sound, we've wondered if that genre had a big influence on you early on or if you guys identify with any other UK style more? Who are some of the newer UK producers you are supporting in your mixes as of late?
Bonar: from me when I was about 15 / 16 years old and starting to dj that sound was becoming really big so i bought quite a lot that of those kind of records, it really excited me and i played a little of it at my first gigs too. But i guess i was really much more influenced by the US house sound at the time if i am honest, in particular Masters at Work. Right now in the UK there are lots great producers we play a lot of, Maxxi Soundsystem, Midland, Waifs & Strays, Christophe, Ejeca … we could go on and on.

How did you guys got involved in the We Love nights and what makes We Love so special?
Bonar: Its was a really "oldschool" story. About 7 years ago I sent Mark Broadbent a mix CD (we'd never met at the time) and a week or so later he got in touch and said if we were on the island we should meet up, we did and the following summer he offered us some dates in one of the smaller rooms. It all grew From there really and this Summer we had the amazing honour of playing the last set on the terrace at the We Love.. Closing party.
There are loads of things that make We Love so special.. theres the line ups they have that are different to any other on the island in terms of variety and scale of it all but mainly there is such a special and fun vibe in there on a Sunday night that you don't find anywhere else.

We heard from some of our friends in the states that you guys had some nice shows booked in the US throughout May. How was that? Did you enjoy the Culprit Sessions? I am actually interviewing you from Miami so I must ask about your time there specifically. Did you enjoy the Electric Pickle?
Bonar: ahh nice soaking up that sunshine I hope !! Yes, we had an amazing time at both those places. The Culprit Sessions are really special because of incredible location on the rooftop at the Standard but more so because those guys that organise it. The Droog guys really know how to throw a party!
The Pickle was really great too, small intimate, great sound and packed full of crazy people. Definitely our kind of people !

How has Ibiza treated you so far? We have been following the closing of club Sankeys in Manchester and can't wait to see what they have done with Sankeys Ibiza. Have you noticed any change this year over the past years in the island in terms of diversity?
Tom: It's been a great start to the season in Ibiza thanks, we we're giving the job of finishing off the terrace for 'We Love' at Space for the first time in June which was pretty epic as you can imagine, I think we are still buzzing from it now! We noticed Sankeys had closed in Manchester, it seems like they are concentrating on the Ibiza side of things, we've actually not been down yet so can't comment on what it's like. We have both definitely noticed a large amount of new parties and venues open up in Ibiza over the years though, each season there seems to be something new on the Island, the diversity is good if there are the people to go round, as it stands all the parties seem to be busy so far this year which is great.
You guys have a new track coming on Future Boogie called 'C With No Name', where did this name come from?
Tom: If we told you that it would spoil the magic. seriously though we can't say, it could offend people! I can tell you that most of our track names come from comedy banter during the process of making the music, most have a funny story behind them, come ask us face to face and we will reveal all.

Next to this track and an individual EP from Bonar on Needwant, what do you guys have coming for us in the coming months production wise?
Bonar: Well we have just completed a remix for Leftroom which is on a classic house track, but we cant tell you any more than that right now. Also we've just finished a remix for a very talented British artist Dan Croll. We are also currently finishing up an EP for a great NY based label, Throne Of Blood.

During ADE lots of DJ's and influential people in the music scene are present. What does ADE mean for you guys and did you ever got to enjoy more then one day ?
Well ADE is a huge part of any serious DJ's or Party goers calendar… unfortunately for us this year we will on be here for the Saturday as other commitments are pulling us in different directions. but we'll be sure to cram in as much as we can in on that day !! Then maybe next year we will pan to do a week
This Saturday the boys from PBR Streetgang will be playing at AIR Amsterdam among other artists like, TEED, Duke Dumont, Benoit & Sergio and many more!