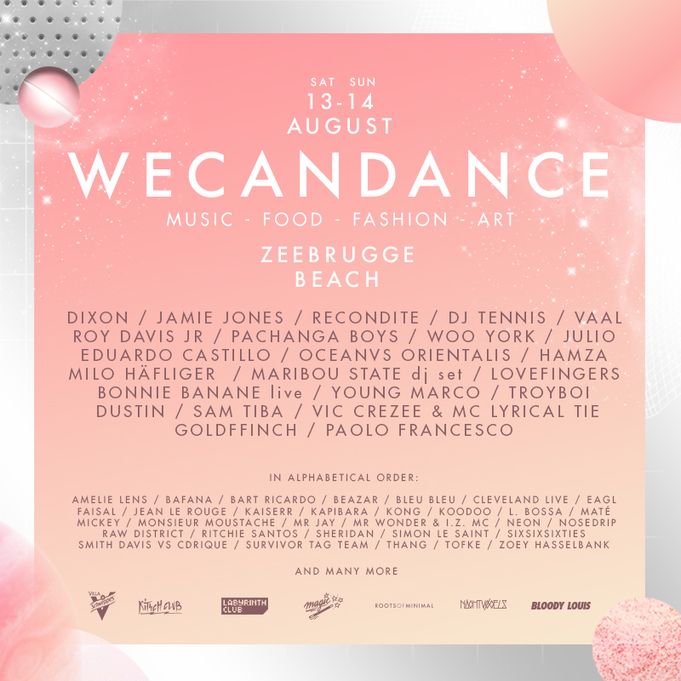 Introducing WECANDANCE Festival
Introducing WECANDANCE. Taking place from 13-14 August 2016, on the sun-kissed golden sands of Zeebrugge Beach in Belgium, WECANDANCE festival showcases an exceptional line-up of quality underground music across 4 main stages.
Alongside headline sets from acts including Innervisions co-founder Dixon, Life And Death label head DJ Tennis and Hot Creations/Paradise main man Jamie Jones, the stunning beach location will also play host to house and techno's finest, including Recondite, Pachanga Boys, Vaal, Woo York, Roy Davis Jr, Young Marco, Goldffinch and Maribou State. The acts announced so far include:

DIXON / JAMIE JONES / RECONDITE / DJ TENNIS / PACHANGA BOYS / VAAL / WOO YORK
EDUARDO CASTILLO / OCEANVS ORIENTALIS / GOLDFFINCH / MILO HÄFLIGER / JULIO
YOUNG MARCO / TROYBOI / ROY DAVIS JR / VIC CREZEE & MC LYRICAL TIE / LIDO
MARIBOU STATE dj set / ERAN AVINER / MILO HÄFLIGER / SAM TIBA / HAMZA
PAOLO FRANCESCO / KAPIBARA / BONNIE BANANE / LOVEFINGERS
Amelie Lens / Bafana / Bart Ricardo / Bibi Seck / Bleu Bleu / Charlotte DC / DiscoVery / Eagl
Emily Jeanne / Faisal / Gus & Sense / Hits & Tits / Jean Le Rouge / Kaiserr / Kong / Koodoo
L. Bossa / Maté / Mickey / Monsieur Moustache / Mr Jay / Mr Wonder & I.Z. Mc / Neon / Nosedrip
Rick Shiver / Ritchie Santos / Sheridan / Simon Le Saint / Sixsixsixties / Smith Davis Vs Cdrique
Survivor Tag Team / Thang / The Lizzies / Zoey Hasselbank
+MORE TO BE ANNOUNCED

WECANDANCE fuses together the very best in music, food, art and style for a one-of-a-kind festival experience. The theme for the fourth edition of WECANDANCE is SPACE.
#WECANTASTE
Food is a big part of the #WCD16 experience, with an exceptional level of quality food available at the on-site Food Market. Visitors will be able to choose from a wide and international range of signature dishes developed by premium restaurants and chefs, inspired by this year's festival theme of Space.
For those who want to opt for that little extra, WECANDANCE are delighted to welcome revered restauranteurs The Jane, where the lucky few can savour a tastebud-tingling meal, prepared by celebrated chefs Sergio Herman and Nick Bril. For this occasion Sergio Herman and Nick Bril will close their doors in Antwerp and move their entire staff to WECANDANCE for two entire days. Drinks specialists and master mixologists Pure C will also be providing spacey cocktails.
#WECANCAMP
Submerge into the complete WECANDANCE experience with a camping ticket. The camping zone, which offers space to bring your own tent and the option of luxury cabins, will be opened on 12th of August with a barbecue, all soundtracked with a guest DJ, to ensure a laid back vibe to get people in the festival mood. More information about the different packages can be found on www.WECANDANCE.be.
#WECANDRESS
The festival theme for this year's edition of WECANDANCE is SPACE! In terms of festival decoration, you can expect a futuristic freshness of raw constructions and monochrome simplicity. On the style side, think sheer materials, sleek metallics, futuristic textiles with splashes of eye-blinding white and silver.
KEEP THE BEACH CLEAN
Last year we had a great and especially clean edition, collaborating with the Surfrider Foundation Europe to protect and enjoy the Belgian coast. We also teamed up with CO2LOGIC to reduce our ecological footprint by making an effort for a clean environment and by compensating the remaining climate impact. This year we can proudly say that we are a CO2 Neutral Festival thanks to this partnership.
Book your place at #WCD16 now at www.WECANDANCE.be.
TICKETS
WCD Weekend Ticket €79.00
WCD Saturday Ticket €49.00
WCD Sunday Ticket €49.00
The Jane Saturday €175.00
The Jane Sunday €175.00
Book now at wecandance.be/tickets
CAMPING
WECANCAMP Easy €40.00
(1 person, bring your own tent, excl breakfast & entrance)
WECANCAMP Easy Relax €205.00
(2 persons, incl. WCD tent, excl breakfast & entrance)
WECANCAMP All inc. €410.00
(2 persons,includes luxe-cabin, 50€ drinkvoucher, excl breakfast & entrance)
Book now at wecandance.be/tickets
VIP
THE OBSERVATORY: KITSCH CLUB X MAGIC
€2500 / 10 people (10x entrance + €1700 spending budget)
€1500 / 10 people (10x entrance + €700 spending budget)
HYPER GALAXY: BLOODY LOUIS
€2500 / 10 people (10x entrance + €1700 spending budget)
€1500 / 10 people (10x entrance + €700 spending budget)
For more information about the different packages, contact [email protected]
CONNECT
http://wecandance.be
https://www.facebook.com/WECANDANCE.FEST
https://twitter.com/WECANDANCEFEST
https://www.instagram.com/wecandancefest
https://nl.pinterest.com/wecandancefest
https://www.snapchat.com/add/wecandance_fest