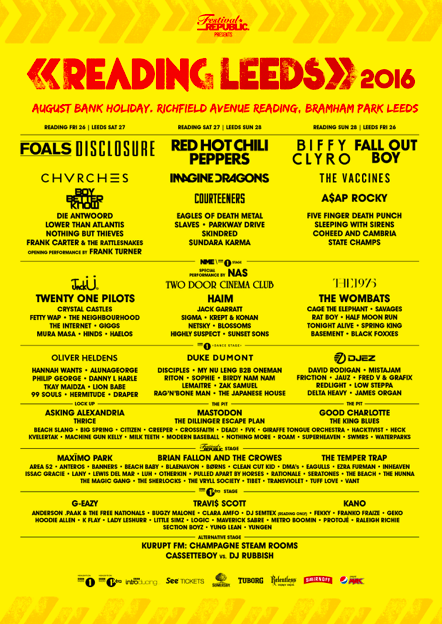 Reading & Leeds Reveals More Names For 2016
Reading & Leeds has added even more names to the Bank Holiday weekend mecca of music, with over 70 names announced today across 6 phenomenal stages.

Leading the additions is New York hip-hop royalty Nas, who'll be bringing his untouchable catalogue of defining anthems to Reading & Leeds this summer in a UK Festival Exclusive. Responsible for one of the most acclaimed and influential albums of all time; Illmatic, his heavy-hitting rhymes have kept him at the top for over 25 years. His set on the BBC Radio 1/NME Stage this summer is sure to be a welcomed reminder as to why he remains a true pioneer of hip-hop.

After breaking the record for consecutive appearances at Reading & Leeds last year with his ninth straight set, festival hero Frank Turner is set to make it a decade of singalongs and heart-on-your-sleeve performances as he takes to the stage this summer. His catalogue of distinctively British anthems has seen the troubadour stand as a true Reading & Leeds icon. Celebrating his tenth appearance in a row, Frank will open the Main Stage with a truly unique set this summer.

Frank Turner commented:
"I'm very happy to be making my tenth annual return to Reading and Leeds Festival this summer. That's the record, by miles, and I'm proud of it. They've always been supportive of my career, loyal to me, and I'm more than happy to repay that in kind. It's the best festival in the UK."

Revered grime kingpin Kano cemented his reputation with his comeback album Made In The Manor; a collection of his classic rhymes and British flow, which he'll be bringing to an electric headline set on the BBC 1Xtra Stage this year. Reading & Leeds have a strong history of musical icons taking the stages by storm and this year is no exception. Pop-punk trailblazers Good Charlotte will be returning to headline the intimate Lock Up Stage with track after track of euphoric classics in another UK Festival Exclusive. Coheed And Cambria are set for a mammoth return to the festivals on the Main Stage whilst Mastodon bring their heavy tectonic rhythms to The Pit with a hugely anticipated headline performance.

On their return to Reading & Leeds, Good Charlotte said:
"For us there's no better way to celebrate the GC comeback than to come do it at Reading and Leeds. Everyone's favourite festival. It will be a highlight for sure."

Bringing together genres, generations and game-changers across the site, Reading & Leeds is delighted to reveal more top-calibre names taking to the stage for true festival moments this summer.