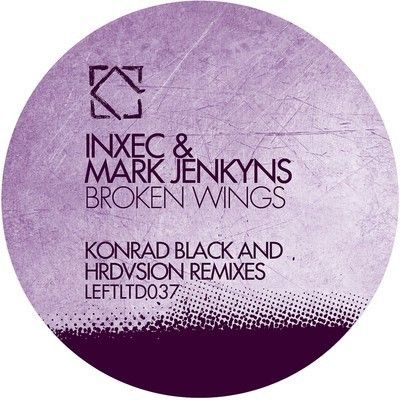 Inxec & Mark Jenkyns – Broken Wings
Leftroom Limited turn to long time associate Inxec and Mark Jenkyns for its next release, which is yet again a freaky bit of inventive late night tech with ghoulish charm and shadow intentions. The two originals come backed with typically excellent remixes from master of the night Konrad Black and Canadian Hrdvsion.
As an ever rising talent with an ability not yet fully blossomed, Inxec produces music from his beloved house right through to heart breaking, thought inspiring mood sections for national radio plays in Germany. Meanwhile, Mark Jenkyns' natural understanding of the dancefloor coupled with his impulsive methods to spark it into action have enabled him to garner a reputation as both a forward thinking producer and immersive DJ releasing on labels like Hot Creations.
The first track the pair turn out is 'Broken Wings', a slinky bit of tech with rooted, hard hitting kicks and engaging percussive clicks. A filtered vocal speaks about phenomenal outrage and gurgling synths always bubble up through the mix. Then an acid line appears next to the pixelated chords and the track really takes off, as will the roof of the right club whenever this one gets deployed.
Two on point remixes then tackle the track: Konrad Black – of labels like Culprit, City Fox and M_nus – layers in plenty of bleepy, blurting synth sounds as he threads his minimal grooves through a freaky filter. Dark, weird and heady, it's prime afterparty material.
Wagon Repair and Rinse associated Hrdvision is next with his sinewy, synthetic and hugely orchestrated remix. Acid lines, sharp synths, rueful pads and more all form a network of lines that drag you ever deeper into their core.
Inxec & Mark Jenkyns then team up again to round out the EP with 'Ride It', This one is another spangled bit of raw machine music with loose, spraying synths, thick basslines and alien life forms all scurrying around a hunched over groove that makes it perfect for dark and druggy backrooms.
Once again here Matt Tolfrey's Leftroom Limited label has come up with the goods.
Tracklist
Inxec & Mark Jenkyns – Broken Wings
Inxec & Mark Jenkyns – Broken Wings (Konrad Black Remix)
Inxec & Mark Jenkyns – Broken Wings (Hrdvsion Remix)
Inxec & Mark Jenkyns – Ride It