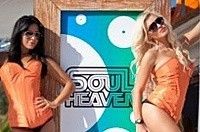 Is daytime the new night time?
Always on the innovative party curve, International party group, Soul Heaven host a hot new weekly pool party from midday on Saturdays in the beautiful surroundings of Ocean Beach, Ibiza. Relaxing on beach beds, cooling off in the pool or enjoying cocktails as you listen to soulful tunes on a perfect balearic afternoon, Soul Heaven is what Saturday afternoons and evenings in Ibiza were made for. Is day time the new night time?
With DJ's such as the Kings of cool, Joey Negro taking over the decks on the first Saturday in August and then again at the Closing Party on Saturday September 21st and Tom Crane, August welcomes legendary NYC diva, Barbara Tucker in her new Barb & Q outfit; young guns, Tom Crane and Luke Pompey alongside Andy Ward and Holland's RiskSoundSystem.
Already attracting a loyal and fun poolside following, the summer pop up Soul Heaven Pool Party at Ocean Beach oozes class & cool in equal measures.
Tom Flynn has established himself with a hand-crafted series of signature house cuts that are heavily bass driven, and his release roll call reads like a who's who of go-to record labels, with Dirtybird, Anabatic, SIZE and BreakNewSoil among the imprints clamouring for his beats. Luke Pompey's versatility and unique approach to his set charges up dancefloors with its driving grooves, uplifting patterns and electronic sounds and allows his love for music to shine through. As well as joining Soul Heaven in Ibiza, Soul Heaven records is hoping to feature the producers playing at the Ocean Beach Pool Parties in a sizzling selection of forthcoming dancefloor tracks.
A breath of Ibizan fresh air, Soul Heaven invite you to join them for their pop up Saturday pool parties this summer
Soul Heaven @ Ocean Beach, Ibiza, 2013
Saturday 3rd August: Joey Negro, Tom Crane 4-10pm
Saturday 10th August: Tom Flynn, Sound Blast 4-10pm
Saturday 17th August Barb & Q, Tom Crane
Saturday 24th August: Andy Ward (4-10)
Saturday 31st August: RiskSoundSystem
Saturday 7th September: Tom Flynn, Sound Blast
Saturday 14th September: Sy Sez, Sound Blast
Saturday 21st September: Joey Negro, Tom Crane
event: Soul Heaven Pool Party
date: Saturdays from June 8th – September 21st 2013
at: Ocean Beach, 12-14 Carrer des Moli, 07820, Ibiza, Spain
Tel: (00 34) 971 803 260
Times: Midday-Midnight (12pm-12am)
Guests: Monthly Resident: Joey Negro
+ Tom Crane; Soul Heaven Residents, Sy Sez and Andy Ward
web: www.soul-heaven.com www.oceanbeachibiza.com facebook.com/oceanbeachibiza
www.twitter.com/oceanbeachibiza