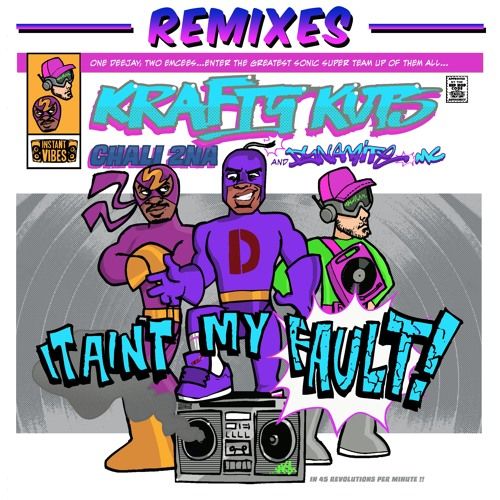 Krafty Kuts & Dynamite Mc - It Ain't My Fault Feat. Chali 2na (Remixes)
Dynamic duo Krafty Kuts and Dynamite MC have paired up with Jurassic 5's Chali 2na releasing the second track from forthcoming studio album 'All 4 Corners'. Krafty and Dynamite pack in that remarkable energy which makes their tracks, just like their sets, impossible to stay still to. Chopping upChali 2na'svocals alongside signature funky beats and banging bass as well as showcasing Krafty's impressive scratching skills, 'It Ain't My Fault' is pure fire from start to finish.
Vanilla Ace leads the charge on this stellar remix package. His trademark thumping bassline and upfront percussion, combined with intelligent vocal chops, prove why he is at the forefront of house music at the moment. Next up is TAISUN, the new project of Australian stalwart, Bass Kleph – delivering a jackin, club remix, showcasing elements of bass house and just a twinge of his original electro sound. Funk dons, Kraak n Smack do what they do best and give the track that ol' school feel. Rounding out the pack is producer / guitarist, Beat Fatigue; his breaks version adds more punch with a nasty bassline but also keeps things light with his added guitar sections.