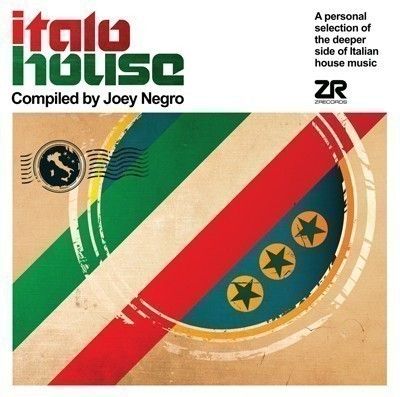 Italo House – Compiled by Joey Negro
If Italo-disco had a strong influence on the development of the first Chicago house tracks in the mid 80s, then Italian house (that came in the form of a bunch of piano screamers a few years later), at the end of the decade, had more of an affinity with the ecstatic/poppy English interpretation of acid-house than with the cloudy/robotic minimalism of the Windy-City productions. But soon after the sampling phase of pianos and divas, Italians started dropping exceptions with milestones like 'Alone' by Don Carlos, a desolate deep-jazz beauty that was a kind of Mediterranean counterpart to Larry Heard's work in Chicago. It was the landmark of the afterhours vibe that characterized Italian house by the early 90s, when producers took the New York garage punching sound that dominated Italy and fused it with ambient atmospherics rich in melody and spleen.
This was something that seemed to recall the winter seaside in the Romagna Riviera or in the North East, but generally the overall spirit of the country at the end of the last century, with a deeper sonic mood that reflected the proverbial Italian hedonism. Lots of clubs were the places to be: from Movida in Jesolo to Pascia or Peter Pan in Riccione, Ranch in Mestre to Red Zone in Perugia, and here you have the soundtrack of that vibe. Alongside the aforementioned Don Carlos' 'Alone', some more crossover vocal songs were 'What You Need' by Soft House Co. (Moz-Art and Checco Montefiori), 'I'm Gonna Love You' by Moz-Art's Jestofunk project and 'Sexitivity' by M.C.J (Gemolotto with Massimino). On the Joey Negro compiled 'Italo House' you can find many tracks that forged the underground house sound of Italy in the early 90s by other prime mover DJs and producers like Leo Mas, Fabrice, Alex Neri & Marco Baroni, Joe T Vannelli, Flavio Vecchi, Ricky Montanari, Ralf, Paolo Martini, Frank Minoia…
The late 80s were undoubtedly a golden era for dance music. A time which saw the birth of many genres and sub genres – from acid house to hardcore to Balearic – and of course Italo house. If you ask Joe Raver to name an Italo house track, they'd probably come back with Blackbox, Jinny, Fiddlefatti or one of many big piano tunes. Not surprising as these became some of the first 'hands in the air' moments on many a dance floor and even ended up crossing over into the UK pop charts. This was back in the days when legions of clubbers buying the domestic issue 12″ on the week of release was enough to secure a top 40 hit. At the same time there was another equally distinctive sound coming out of Italy – a warmer, deeper, more emotional style which didn't yield any commercial hits. "Though I'm not adverse to the odd "piano screamer" I was much more drawn to the output of producers like Alex Neri and Claudio Mozart", says Z Records Dave Lee (aka Joey Negro). "The sound was more jazzy and soulful with syncopated percussion, dreamy pads and, though piano was often used, it wasn't in the obviously programmed, big breakdown style which became a cliché of the Italo house genre. This more underground side of Italo was closer to the original American house sound but still retained a very European flavour. As for the vocals, one of the fascinating things about Italian house (and in fact many British and US productions from the time) was the extensive use of US acappellas. It was a crucial addition to the formula."
Though this album is subtitled The Deeper Side of Italo House, which is definitely the overall sound, not all the tracks here are what you would call 'deep' – a much misused word these days anyway. 'Montego Bay' is more disco style, not dissimilar to some of Joey Negro's own productions from this time. MCJ's distinctly upbeat 'Sexitivity' was maybe influenced by American vocal house like Crystal Waters, though both still fit in with the overall sound. One of the more popular songs was Softhouse Company's 'What You Need' – piano house done with a little more panache than most.
In common with other Z compilations which have featured Britfunk and GoGo, this album is an important release for Dave. "Important because I love a lot of the records, many of which have been largely forgotten about, but also because there really was a unique sound coming out of Italy, spread across many labels and involving numerous producers. As a result, it has never really been fully showcased like this before. I'm glad this album exists for other people to discover or re-discover the deeper side of Italo house." Joey Negro