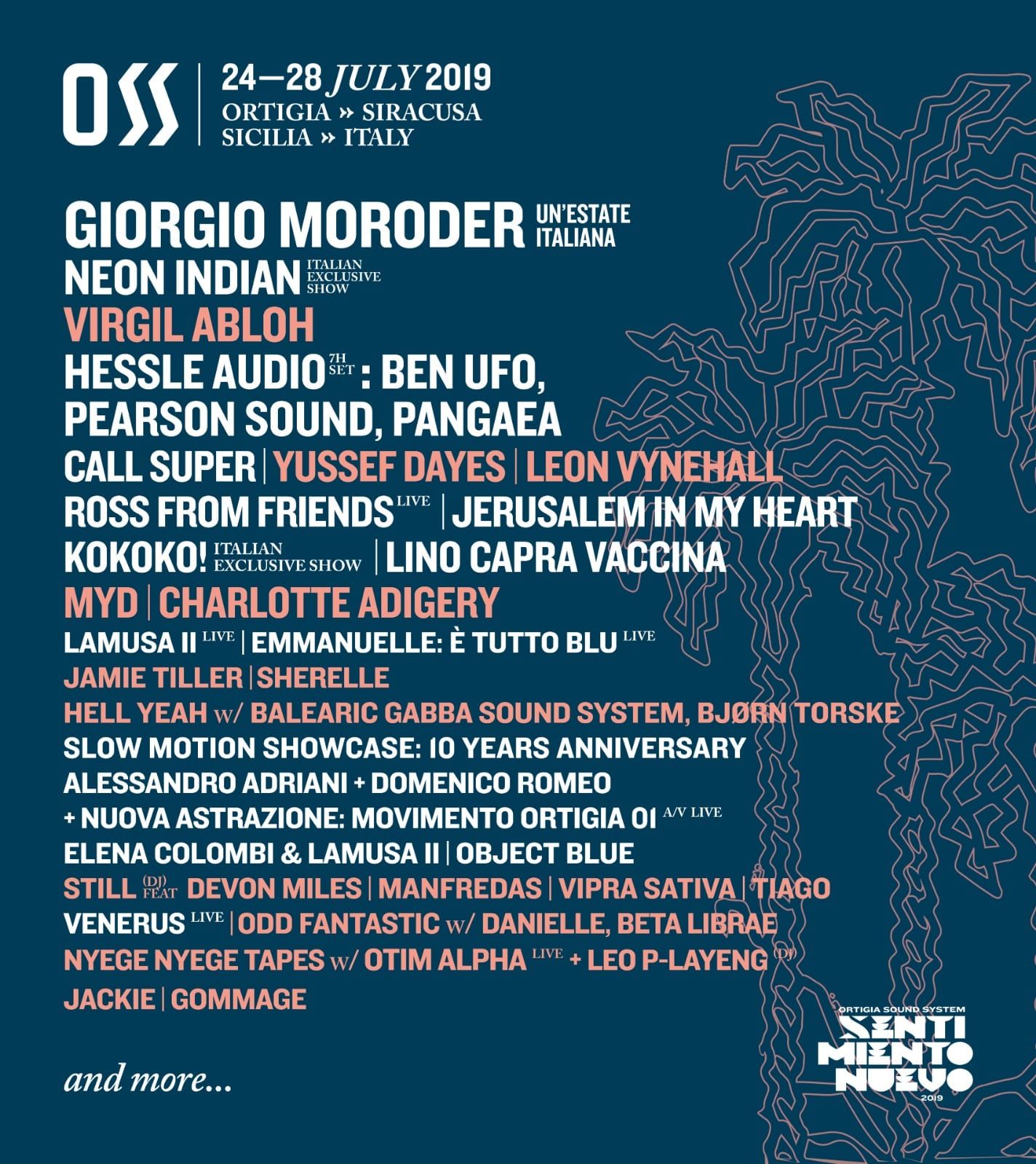 Italy's Ortigia Sound System Festival 2019 returns to UNESCO World Heritage Site Ortigia and announces full line-up
Ortigia Sound System Festival announces the full line-up for its 6th edition and brings Boiler Room for the first time in Sicily
A 360° creative, Virgil Abloh is undoubtedly one of the most influential characters in the world today. The founder of the most popular streetwear brand of the moment, Off-White, will be at Ortigia Sound System Festival as a DJ, for an exclusive set. His creativity has managed to seduce high fashion houses such as Louis Vuitton and world-renowned musicians such as Kanye West, his collaborations with successful companies such as Nike and IKEA have travelled around the world.
To the lineup of OSS' sixth edition are also added Yussef Dayes, a young English drummer already known for the project Yussef Kamaal, the young Belgian-Caribbean artist Charlotte Adigéry, who has recently published her second EP, Zandoli, and the French musician, producer and sound engineer Myd, former member of Club Cheval.
After the great success of last year's edition 7 boat parties, this year the number of boat DJ sets will increase to 8, two a day from Thursday to Sunday. On board the Selene, Ortigia Sound System Festival will host, in collaboration with Carhartt, a rich selection of artists from all over the world, from Italy to Uganda, mirroring a 360° music program ranging from house to world music.
The stars of this year's boat parties will be Leon Vynehall, British DJ and producer of prestigious label Ninja Tune, Jamie Tiller, founder of Music From Memory label, the Italian independent label Hell Yeah Recordings with the new project of its founder Marco Gallerani (Peedo), Balearic Gabba Sound System, and the Norwegian house veteran Bjørn Torske.
To these are added one of the most interesting Italian projects in the electronic field, Still, with a featuring by Devon Miles, the Lithuanian nightlife icon Manfredas, the Roman project Vipra Sativa and the Portuguese DJ Tiago, active for over 20 years.
There will be a special focus on the UK underground scene, with the young, talented DJ and radio presenter Sherelle, while the young Berlin booking agency Odd Fantastic will present an all- female lineup with one of the voices of NTS Radio, Danielle, and the cosmic techno flavor of Beta Librae.
The new sounds of Africa will be present as well, thanks to Otim Alpha and Leo P-Layeng of Nyege Nyege Tapes – one of the most active African labels, which hosts the homonymous festival in Uganda. At OSS19 will also perform Jackie, another important name in the Portuguese electronic scene, and the duo Gommage Dj Team, composed of Dj Kramer (Luc Ramon) and Claudio Fagnani (Elita).