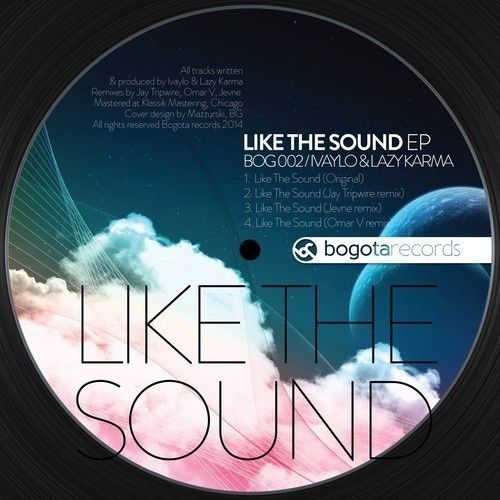 Ivaylo & Lazy Karma – Like The Sound
Bogota Records returns with their second release, titled "Like The Sound". Featured once again is Ivaylo, a Bulgarian native based in Oslo, but this time in the company of good friend, and part of the Bogota label family, Lazy Karma. The vocals on "Like The Sound" are cool and easygoing repetitions sampled from Renate, an old friend of Ivaylo also heard on his previous Themes EP.
The track starts off with a jingly bounce before unearthing a deep acid bass line, at times featuring well-fitted snare breaks. Vancouver's very own Jay Tripwire (Poker Flat) delivers a remix that starts off with a chugging bass groove run through the low-pass before allowing the original to peep out in a drum solo-like breakdown. Jevne, a mover from Minneapolis known for playing live bass guitar with his sets and running Onethirty Recordings, techs things up a bit with his remix, taking on a totally jacking feel. Fellow Norwegian capital dweller Omar V (Full Pupp) calls to the cosmos for a much more spacey and Italo-influenced disco remix.
As the name suggests, DJs and dance floors both should certainly like the sound from Ivaylo and Bogota Records.
Label and Artist Links:
www.bogotarecords.com
www.soundcloud.com/ivaylo