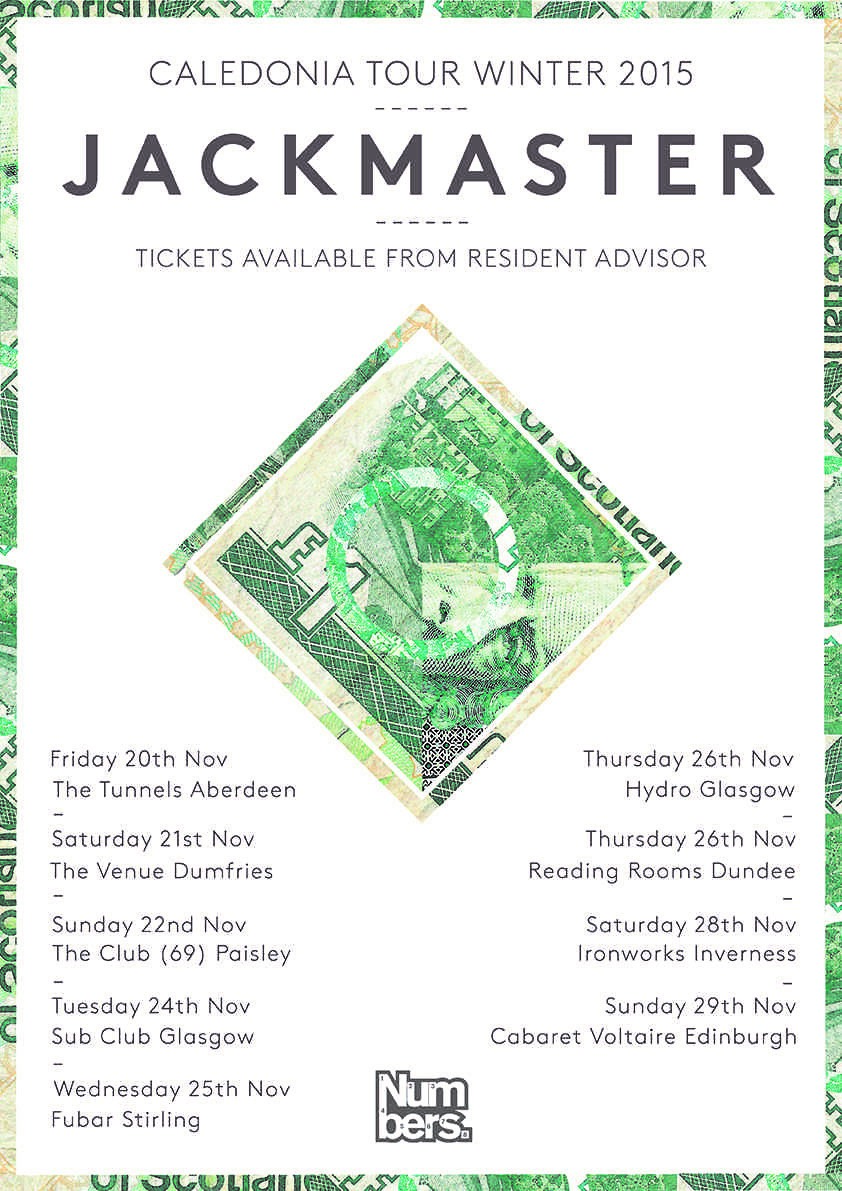 Jackmaster announces a nine date tour of Scotland
After a hectic summer of touring across both the US and Europe, Jackmaster will soon be back on home turf after announcing a nine-date tour of Scotland.
Kicking off at The Tunnels in Aberdeen on November 20th, Jack will then visit Dumfries, Paisley, Glasgow, Stirling, Dundee and Inverness, before wrapping things up at Edinburgh's Cabaret Voltaire on November 29th.
In the past few months alone, Jackmaster has played in both South and North America, key dates in Europe including two Warehouse Project shows, Paradise's ADE party, London's fabric, Ibiza's famous Circoloco and festivals including The Social, Bestival, Sonus and Dekmantel.
Jackmaster says:
'I've been working on this for what seems like AGES! So it feels great to finally announce my first proper tour of Scotland, alongside my friends Jasper James, Denis Sulta, Ryan and Wilba from Rubadub and the hottest DJ duo to come out of Scotland since Slam: Jon José & Celino.
I'm doing as many shows as I possibly can, running over 10 consecutive nights with a wee night off in the middle for one of my mates birthday parties. We did our best to fit in some of the smaller towns as well as the obvious ones, as I'm aware how crap it can be to live in certain areas of Scotland for young people, and how much of a pain in the arse and expense it must be to have to travel to the likes of Glasgow and Edinburgh just to hear some good music.
For this reason we are keeping the door tax in these areas as low as possible. It was impossible to fit everywhere in but we tried our best. Some of the places I wanted to play wouldn't take us (even when I offered to play for free), some of the towns didn't even have the spaces or PA companies we needed to throw our own parties, and some of the people i tried to rent vessels from in the coastal towns to throw boat parties (like Buckie, where my parents were Married) just plain told me to fuck off! (If you know someone who can help with this please get in touch and we will make it happen as that one was important to me). On the other hand, one of the things i am extra happy about is that I'll be playing in the wee basement in Paisley that really changed everything for me, where entry will be just £1."
Please see below for a full list of dates.
Jackmaster – Scotland Tour
20/11 – The Tunnels, Aberdeen
21/11 – The Venue, Dumfries
22/11 – Club 69, Paisley
24/11 – Sub Club, Glasgow
25/11 – Fubar, Stirling
26/11 – Hydro, Glasgow
26/11 – Reading Rooms, Dundee
28/11 – Ironworks, Inverness
29/11 – Cabaret Voltaire, Edinburgh
Tickets: http://bit.ly/1kOQv57