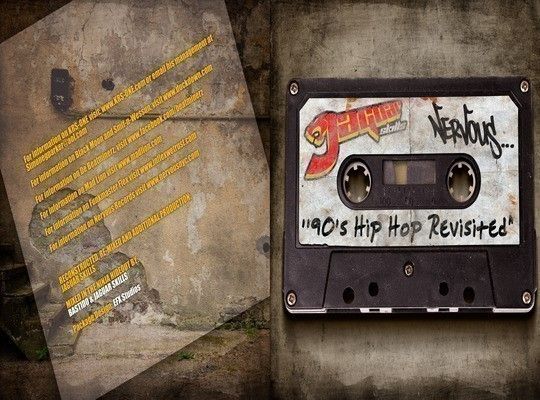 JAGUAR SKILLS – 90'S HIP-HOP REVISITED
In March 2014, the masked Ninja Jaguar Skills returns with a mammoth new compilation for the legendary US label Nervous Records. This new record sees Jaguar Skills move away from his normal genre-defying scintillating style and embrace his Hip-Hop roots, as he breathes fresh life into Nervous Records classic Hip-Hop back catalogue.
Hailing from New York City, Nervous Records is one of the longest standing independent record labels in the US, and is rightly regarded as one of the most influential imprints to emerge in the 1990's. With an unrivalled back catalogue, which spans both House and Hip-Hop, Nervous Records has had a lasting impact on both underground and popular culture. On the house side Nervous have released records from Armand Van Helden, Kenny Dope, Todd Terry, Roger S and their Hip-Hop catalogue is equally impressive ¬ which is where Jaguar Skills comes in.
After several studious months spent trawling through dusty crates and scouring the extensive Nervous archives, Jaguar Skills has delivered a dazzling compilation which features 65 tracks, remixes and acappellas from Nervous' unparalleled Hip-Hop catalogue. Featuring music from pioneering artists such as KRS-One, Black Moon, Mad Lion, Funkmaster Flex, Smif-N-Wessun, Polyrhythm Addicts and Broadway, on '90's Hip-Hop Revisited' Jaguar Skills takes the listener on a head-nodding and fist pumping journey through 1990's Nervous Hip-Hop royalty.
The artists and tracks may be familiar to some, but here they sound like never before. Jaguar Skills has painstakingly reconstructed and remixed every track that features on the compilation from the original Nervous 24 track master tapes, using the same raw production techniques so as to stay true to the classic versions. Expertly remaking many of the drum-beats to give them that little bit extra, Jaguar Skills has also added an array of remoulded original effects and samples, one highlight being a brand-new never before heard vocal from KRS-One which features on 'Big Up New York'.
'90's Hip-Hop Revisited' is equally a nostalgic treat for the heads who saw the golden era of Hip-Hop first hand or an introductory masterclass for the younger generation to feast themselves on.
To mark the release there will be a one-off album launch party in New York with full details to be announced soon.