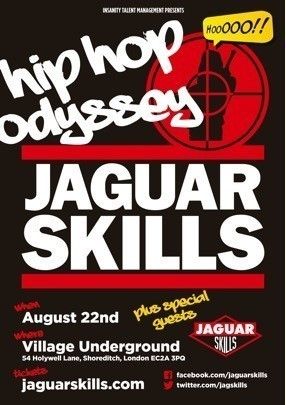 Jaguar Skills Hip-Hop Odyssey
Attention all music lovers. On August 22nd BBC Radio 1's Jaguar Skills is set to host the most highly anticipated party of year when he presents his world-famous'A Hip-Hop Odyssey' live and direct for the first time from London's Village Underground. Running from 9 pm to 2 am, those of you lucky enough to be to be attending this one-off extravaganza will witnessJaguar Skills take you on a head nodding and fist-pumpingjourney through the history of Hip-Hop as he repeats his record-breaking mix to an intimate 550 capacity crowd.

Jaguar Skills legendary '1979-2006: A Hip-Hop Odyssey' mix caused mammoth cyber waves when it first aired on BBC Radio 1 back in 2006. Featuring over 800 classic Hip-Hop tracks expertly blended into a 40 minute musical master class, the mix shattered all expectations and re-wrote the rule book in terms of what was possible from a mash-up mix. As such it was downloaded over a million times – a truly staggering feat.

After years of demand, August 22nd sees Radio 1's masked ninja present a taste of this mix to a live audience for the very first time. On the night Jaguar Skills will be spinning classic after classic Hip-Hop joint for between three and four hours and will be joined by MC Lord Basis Supreme, the MC who appeared on the original BBC mix, who is flying all the way over from Chicago for this very special gig. Also spinning records on the night will be some yet to be announced DJs who have been handpicked by Jaguar Skills himself to kick off proceedings in style.

Staying true to Hip-Hop's roots, Jaguar Skills will be stripping things back on the night and the set up will simply be two technics 1210's decks, Serato and a powerful Funktion One Soundsystem. And Shoreditch hotspot Village Underground, with it's raw vibe and gritty brickwork interior, has been chosen as the perfect underground location for this one-off event.

Strictly limited to 550 tickets which can be bought exclusively through Jaguar Skills website (http://jaguarskills.com/) entry also comes complete with a free limited edition t-shirt.

Expect to dance the night away to the dopest cuts, the baddest breaks and some spine-tingling scratching as Jaguar Skills and his expert team of party starters trawl through their record bags and take you on a journey through the history of Hip-Hop. HooOOO!!