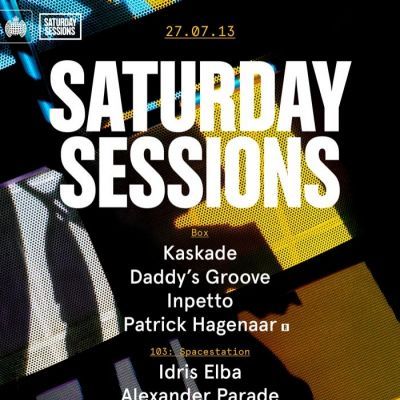 Saturday Sessions: Kaskade
Get ready for the American powerhouse Kaskade; revolutionary in progressive House music, to grace the Ministry of Sound's Box and deliver an electrically dynamic set in London on the 27th July. Also taking over the 103 are London trendsetters Spacestation who bring Idris Elba to headline their room! With a line-up that includes some of the most creative DJ's on the scene, this night is guaranteed to exhilarate clubbers as the music takes over – we can't wait!
The face of EDM and a transformative force in the music world, Kaskade, is coming to London for a summertime gig at The Ministry of Sound's Box on the 27th July. Kaskade is globally recognised for his innovation on the EDM scene, and his chart-topping remixes for pop icons Lady Gaga, Katy Perry, Daft Punk and Beyoncé have earned him international respect, laying the groundwork for a new generation of music lovers. Kaskade returns to The Box with a collection of smash-hits including 'Atmosphere', 'No One Knows Who We Are' and 'All You' to deliver a wild night of remixing, beat-dropping and partying – hold on tight London!
The Box's excitement continues; also playing on the 27th are Daddy's Groove, Inpetto and the Ministry's very own resident Patrick Hagenaar. We're already pumped for this combination of big-boom House music and powerful EDM; it's set to be a club-rumbling, electrically charged night – don't miss out on some of the greatest DJ's around!
Taking over the 103 are London trend setters Spacestation, who are growing from strength to strength, pioneering some of the coolest up and coming dance music around. Headlining this room is arguably Hackney's most bankable export Idris Elba. With residencies in both Ibiza and London, Elba is on the tip of people's tongues for more than his role as London's most unhinged detective- Luther. Playing alongside Idris is UK Garage giant Spoony who is set to perform his debut appearance under his house music alias Johnathan Joseph. Also on the bill is Alexander Parade and Spacestation residents SE7EN, and Jordan Wade.
From £20 Advance // £15 from 4am // Students £5 off door price
Tickets available from:
http://www.ministryofsound.com/club/listings
http://www.residentadvisor.net/event.aspx?433181
http://www.clubtickets.com/
Saturday Sessions: Kaskade
Saturday 27th July
23:00 – 07:00

Box:
Kaskade
Daddy's Groove
Inpetto
Patrick Hagenaar
103: Spacestation
Idris Elba
Alexander Parade
SE7EN
Jordan Wade
Rick Maia