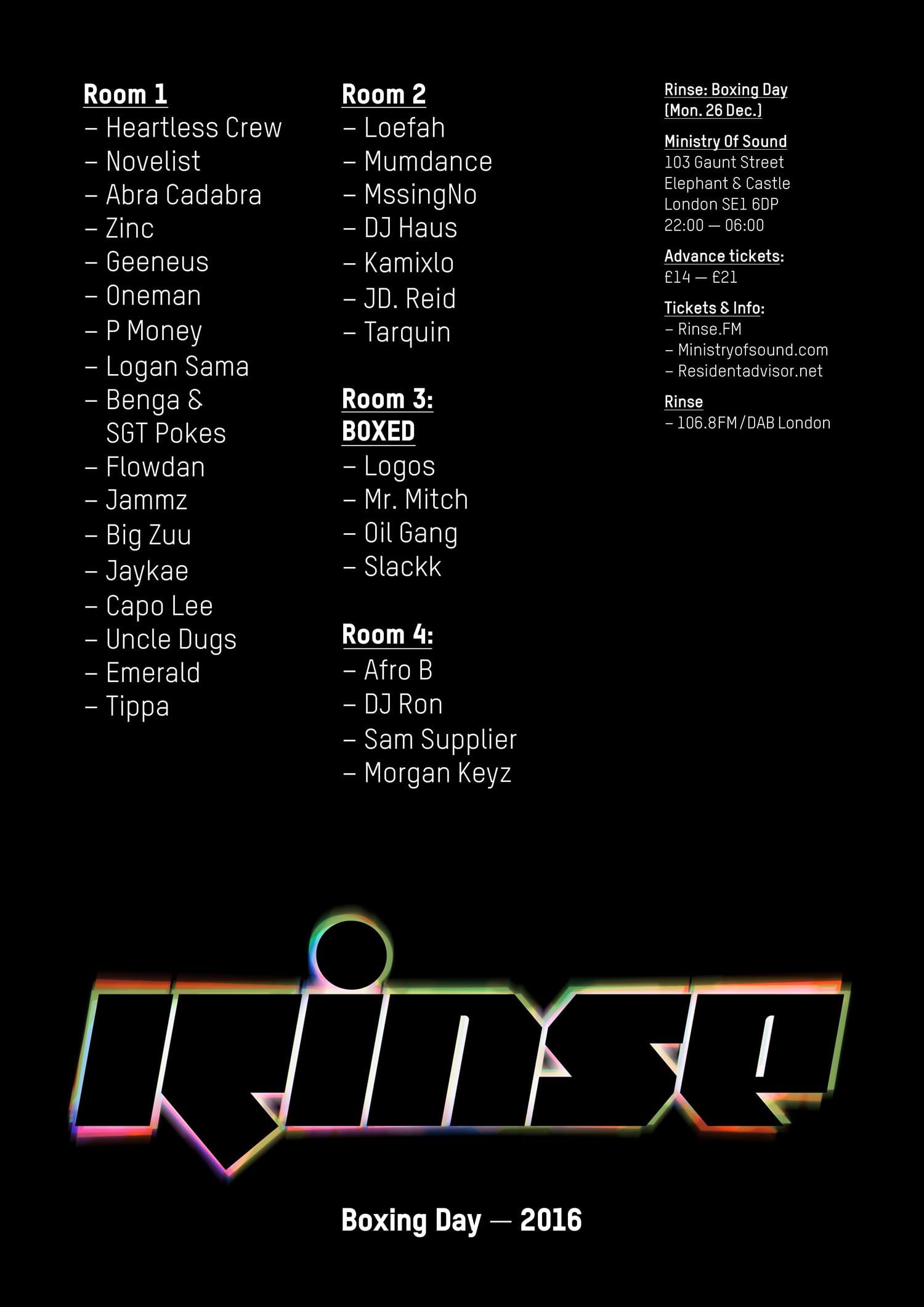 Jammz & MssingNo added to Rinse Boxing Day lineup…
Jammz & MssingNo join P Money, Big Zuu, Jaykae, Kamixlo, Afro B & Morgan Keyz as new additions to the Rinse Boxing Day show.
They join an already stellar lineup featuring the some of the biggest, best and need-to-know names in the Rinse Family including Heartless Crew, Novelist, Abra Cadabra, Loefah, Zinc, Tippa, Geeneus, Oneman, Mumdance & DJ Haus.
The Rinse Boxing Day show is a long-standing regular occurrence in any grime fan's calendar. After 22 years of Rinse, 2016's show is a hard earned celebration of Rinse releases, radio, and groundbreaking projects past and present, with one eye on 2017's up and coming names.
Rinse Boxing Day
Ministry of Sound London
26th December 2016
10pm-6am
Ministry of Sound
103 Gaunt Street, London, SE1 6DP
Advance tickets start at £14
Tickets & info: www.rinse.fm/boxingday
Full lineup:
Room 1
Heartless Crew
Novelist
Abra Cadabra
Zinc + Tippa
Geeneus
Oneman
P Money
Logan Sama
Benga + SGT Pokes
Flowdan
Jammz
Big Zuu
Jaykae
Capo Lee
Uncle Dugs
Emerald
+ more
Room 2
Loefah
Mumdance
MssingNo
DJ Haus
Kamixlo
JD Reid
Tarquin
Room 3 – BOXED
Logos
Mr. Mitch
Oil Gang
Slackk
Room 4
Afro B
DJ Ron
Sam Supplier
Morgan Keyz
www.rinse.fm