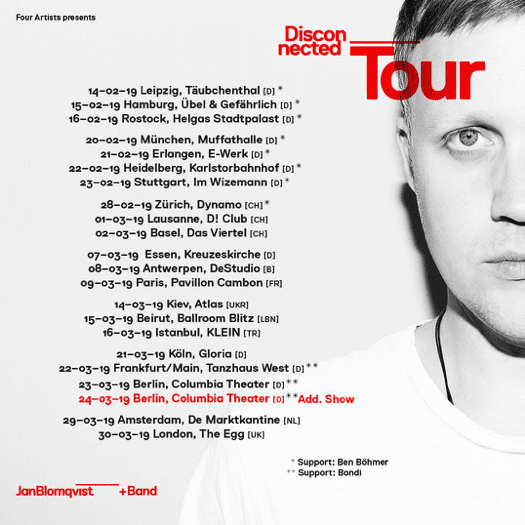 Jan Blomqvist announces European 'Disconnected' album tour
Widely renowned artist Jan Blomqvist will bring his fusion of genre-crossing sounds to all corners of the globe this year. Starting with a European tour for his recent album 'Disconnected', Jan will be playing several shows with his band, as well as, solo DJ sets across the continent.
Kicking things off in Germany, where Jan usually bases himself in the capital city of Berlin, Jan will soon move into Switzerland, Spain, Belgium, France and Ukraine, before dates in Lebanon, Turkey, Amsterdam and London next month. Following the European tour, Jan will be heading across the pond for a string of solo gigs including the esteemed Coachella Festival and Art With Me Festival in Coachella.
An innovative artist, Jan was one of the first producers to bring techno into the concert realm. Leading a band consisting of Christian Dammann (drummer), Felix Lehman (pianist) and Ryan Mathiesen (lyricist), the concert shows also include a light and visual show for a fully immersive experience.
Inspired initially by the punk movement during his adolescent years, Jan soon found his passion switch to the electronic movement, enjoying a variety of previous releases on Armada Deep; the sibling label to Dutch giant Armin van Buuren's iconic imprint. With his 'Disconnected' album focusing on the constant connection of 'the Facebook generation', Jan's production was the subject of widespread acclaim on account of his thought-provoking lyrics and rich, rhythmic melodies.
"The most important addition to the music on the Disconnected Tour is the light show that we developed with Shan Blume, a Berlin-based artist and a dear friend", explains Jan. "That's something to really look forward to!"
Touring across various cities over the next two months, tickets for Jan Blomqvist's Disconnected tour are on sale now and can be purchased here.
Tour Dates:
14.02. Germany | Leipzig – Täubchenthal
15.02. Germany | Hamburg – Übel & Gefährlich
16.02. Germany | Rostock – Helgas Stadtpalast
20.02. Germany | München – Muffathalle
21.02. Germany | Erlangen – E-Werk
22.02. Germany | Heidelberg – Karlstorbahnhof
23.02. Germany | Stuttgart – Im Wizemann
28.02. Switzerland | Zürich – Dynamo
01.03. Switzerland | Lausanne – D! Club
02.03. Switzerland | Basel – Das Viertel
03.03. Spain | Madrid – Afterbrunch @ Las Ventas Plaza de Tor
07.03. Germany | Essen – Kreuzeskirche
08.03. Belgium | Antwerpen – DeStudio
09.03. France | Paris – Pavillon Cambon
14.03. Ukraine | Kiev – Atlas
15.03. Lebanon | Beirut – Ballroom Blitz
16.03. Turkey | Istanbul – Klein
20.03. Switzerland | Arosa – Arosa Electronica
21.03. Germany | Köln – Gloria
22.03. Germany | Frankfurt/Main – Tanzhaus West
23.03. Germany | Berlin – Columbia Theater
24.03. Germany | Berlin – Columbia Theater
29.03. Netherlands | Amsterdam – De Marktkantine
30.03. United Kingdom | London – The Egg
14.04. USA | Indio – Coachella Festival
21.04. USA | Indio – Coachella Festival
27.04. Mexico | Tulum – Art With Me Festival
12.05. USA | San Antonio Recreation Area, CA – Lighting In A Bottle