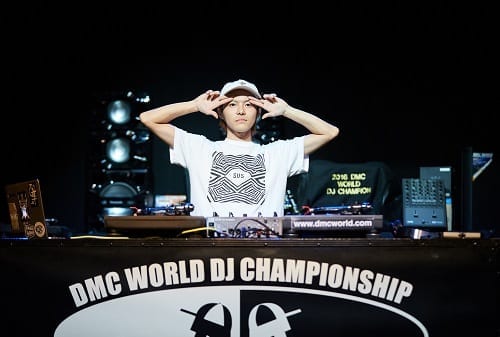 Japan's DJ Yuto crowned the 2016 DMC World DJ Champion
After months of national competitions and hours of back-to-back battles, Saturday the 24th of September saw the best DJs from around the world battle it out to be crowned the 2016 DMC World DJ Champion. DJ Yuto from Japan made all the hours of practice worth it as he spun his way effortlessly through the championship – becoming just the third Japanese DJ ever to win the competition in 31 years. Seeing off challenges from the 2016 online champion and bookies favourite DJ Brace from Canada and the UK's rising star Ritchie Rufftone, Yuto produced an energetic, technical routine, which saw him fall to the ground in elation as he flawlessly completed his set. It appeared to be a no-brainer for the judges, with the legendary DMC founder Tony Prince being so impressed, that he applauded it as "something they have never witnessed before in DMC history". The deserving Yuto came away with a barrage of prizes including a DMC gold disc, custom gold Rane mixer, the iconic DMC World Champion bomber jacket, plus prizes from Peavey, Panasonic and Numark. Second and third place were given out to DJ Brace and USA's DJ Traps respectively.
Key contenders who provided memorable and notable performances came from Brazil's DJ Basim, who's sense of calm throughout his routine was hypnotic, last year's runner up DJ Spell from New Zealand sampled crowd favourite cuts throughout his set, and DJ Skillz from France, whose performance appeared completely flawless from start to finish.
Elsewhere, in the head-to-head battle for World Supremacy, the final came down to Erick Jay from Brazil and fan favourite DJ Fummy of Japan. The competitors had three minutes each to prove their worth and after a fierce battle, which saw both DJs pull out all the stops and bring their finest routines to the table, the judges found Erick Jay the worthy winner.
The thousands of fans who descended upon the O2 Fourm Kentish Town were not left disappointed, as they witnessed arguably the best DMC world finals to date. A variety of workshops had fans, wanting to improve their talents, spoilt for choice – from learning how to pop and lock with New York's Popmaster Fabel to beatboxing alongside 2015's champions The Beatbox Collective. And, with special guest performances from DJ Woody, 2016 World Team Champions DJ Fly and DJ Netik, The Beatbox Collective, Killa Kela and The Spitkingdom Soundsystem, and the legendary Invisibl Skratch Pkilz, DMC once again produced an unforgettable day of entertainment which will no doubt see fans queuing up for next year's tickets already.