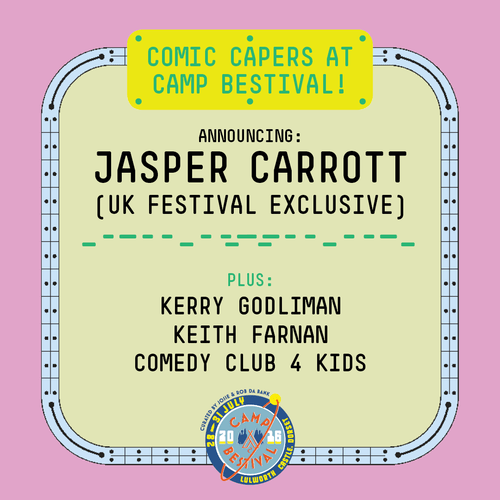 Jasper Carrott and more Announced for Camp Bestival
There will be guaranteed laughs aplenty this July when we head into Outer Space at Camp Bestival, as we reveal that one of the country's all-time great comedians, Jasper Carrott, will be joining us as our astronomical comedy headliner. Plus, we've got news of a whole galaxy of family entertainment in the Big Top and bounteous trolley-pimping, beard sculpting and dressing-up delights throughout the weekend, all in the idyllic surrounds of Lulworth Castle on Dorset's historic Jurassic Coast.
Rob da Bank says: "We all love a curveball and wow we just announced Jasper Carrott for Camp Bestival! I grew up watching Jasper on TV, so that means a lot of you mums and dads probably did too, and if you did you know he's a comedy legend that is going to make us all laugh ourselves into outer space…quite possibly. See you there!"
Jasper Carrott says: "I've heard all about Camp Bestival and what a great family festival it is, so I couldn't be happier to be heading down to Lulworth Castle to have some fun in the fields, telling a few stories and singing a few songs for you all on Sunday in the Big Top."
He's one of the UK's greatest ever comedians, so we are utterly ecstatic that Jasper Carrott will be joining us for a comedy special in the Big Top on Sunday 31st July. A pioneer of observational comedy, Jasper's five-decade-spanning career has seen him play to sell-out crowds across the world, front numerous TV shows, including Carrott's Lib, Carrott Confidential, The Detectives and Golden Balls, among many others, and release several much sought after comedy albums brimming with his infamously risqué songs, including the much-loved Magic Roundabout and Funky Moped. A bona fide legend, Jasper's Sunday afternoon set in the Big Top will be simply unmissable.
There will also be artful, satirical support on Sunday from acclaimed comedian, Keith Farnan and star of 'Live At The Apollo' and 'Michael McIntyre's Comedy Roadshow' Kerry Godliman, who recently appeared as Hannah in Ricky Gervais' sitcom 'Derek'. And that's not all, as we'll have the totally ace Comedy Club 4 Kids showcasing some dashing youth-based hilarity on Friday and Saturday too
Fresh from ruling kids' TV, we're over the moon that LazyTown Live on Stage is coming to Camp Bestival. A non-stop, interactive, energetic treat – jam-packed with singing, dancing, acrobatics, music and fun. LazyTown Live on Stage engages, entertains and motivates children to make healthier choices. For ages 3-103!
Commenting on their Camp Bestival appearance LazyTown's Sportacus said: "Bing, bing, bang get ready for non-stop action and super hero fun. Let's go. . ."
And Robbie Rotten added: "If you want a show, I'll give you a show…Robbie Rotten style! It's disguise time!"
There's a plethora of heavenly Big Top joy for all the family throughout the weekend too, including two appearances of Aliens Love Underpants, who will be heading straight for our Big Top universe with their zany and hilarious tale on Saturday and Sunday, following their main stage appearance on Friday. And don't miss amazing entertainment from London Contemporary Voices Choir: 'Space Junk', Royal Albert Hall's Albert's Band, West End Kids, Funky Little Choir, The Steelers, and the BRIT School, all hosted by ace Camp Besti-fave Arielle Free.
We're absolutely delighted to announce that we will have a very special sing-along session for all the family, journeying through the songs of Disney with Fascinating Aida's Liza Pulman. A guaranteed smash, get into the Big Top early for this one! See you down the front.
There's much more family-based high-jinx in store with the return of the Camp Bestival Kids Talent Show. Especially for under 16s, and judged by the legendary Pan's People, the Camp Bestival Kids Talent Show will run each afternoon in the Bollywood Tent. Camp Bestival 2017 family tickets are on offer for the winners, with ace Camp Bestival merchandise for the runners up and, best of all, everyone who enters gets a coveted Camp Bestival rosette!
On Saturday at 11.30am on the Catwalk in the Lower Kids Garden we'll have our incredible Beard & Moustache competition where you'll be able to captivate the audience with your flocculent facial sculpture and bedazzle with your bushiness! So come along and let us fondly hurrah at your hirsute and fleecy face!
Hot on the Beard & Moustache competition's hairy heels will be our legendary Pimp My Trolley competition. Always a truly dazzling spectacle, this year, with Outer Space-inspiration flying high, we're expecting some stellar entries. And with a Camp Bestival 2017 family ticket up for grabs for the triumphant trolley pimper, expect competition to be fierce.
And finally for now, don't forget to boldly go to our annual Fancy Dress Parade at 1pm on Saturday in the Kids' Garden. Aliens, rockets, comets, stars and even space-pixies; the options are almost infinite! We've been planning our Outer Space outfits for ages, so make sure you and yours join us for intergalactic dressing up joy!