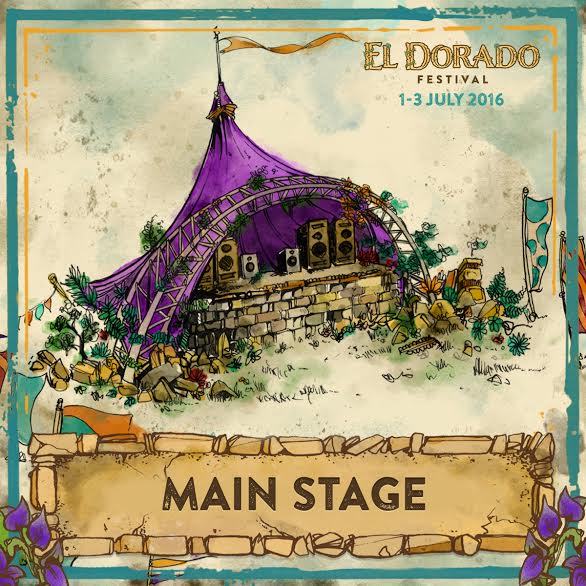 Over 30 new acts added to for Cirque du Soul's El Dorado Festival
Party creators Cirque Du Soul today unveil the full line up details of their very first festival – El Dorado, taking place 1-3 July, in response to the huge success of their national club nights. They announce over 30 more names today, as well as details of the various stages, and full activities programme.
Cirque Du Soul will transform the beautiful grounds of Eastnor Castle, Herefordshire, into the lost kingdom of El Dorado; a land believed to have streets paved with gold, layered with lakes of fresh water and green jungles – a land so beautiful you would never want to leave. Promising an escape from everyday life in search of something a little more exotic, El Dorado boasts the ultimate party line up, covering a diverse mix of genres.
Headliners include the smooth sounds of Craig David's TS5, the high energy of Basement Jaxx (DJ Set), East London's King of Grime Kano, and American/ Bermudian reggae artist Collie Buddz.
Also featured on the eclectic line up are Nottingham's pop-soul-reggae artist Ady Suleiman, legendary party DJs Artful Dodger, BBC Radio 1 Xtra resident Barely Legal and the stirringly exciting Submotion Orchestra.
Expect a carnival atmosphere across many stages, tents and hideaways, as a host of musical live and DJ talent take to the stage over 1-3 July, from dub and reggae master David Rodigan, and the UK's favourite bashment party The Heatwave presents Hot Wuk, to Liverpool quartet Clean Cut Kid and rising grime star Elf Kid.
Joining the line up today are artists including sibling duo and faces of Cirque du Soul Weaver Bros., house music producer Harry Wolfman, alternative musician Charley Marley, soul boy and Tuckshop selector Russ Ryan, and modern funk outfit TWOGOOD.
Staying true to the Cirque Du Soul ethos, El Dorado is so much more than a music festival. With the site being transformed into the beautiful, lost Kingdom of El Dorado, festival-goers can expect surprises at every turn. Today they reveal details of the 5 stage areas and accompanying artwork.
Situated next to the stunning sapphire of the Lost Lagoon, the main stage is only worthy of the biggest musical demon; never will you hear vibrations this good in grounds so exquisite.
Venture over to the Cirque du Soul stage where burlesque meets bass to bring you the greatest show on earth. This is the land of nomadic clowns, pranksters and masters of magic.
Follow the hidden trails to find The Lost Ruins, hidden amongst the foliage. The rocky remnants of the forgotten land will play host to artists and DJs over the course of the weekend… if you can find it.
For bombastic gluttony and gooey excess there's no place better to convene than within the walls of The Boudoir. Adorned with sensuous fabrics from foreign lands, these chambers host electrically-charged live acts by day, then morph into a dark and twisted den by night.
Under the sun and surrounded by the enchanting shores of the Lost Lagoon sits an island shrouded in flowers and vines, colourful, rich and exotic. Upon this floating stage in the middle of the lake, guarded by mermaids of the deep, you will find Treasure Island.
As well as sporting an impressive line up of music, a plethora of other experiences are on offer at this immersive festival. The full range of extra-curricular activities and experiences on offer include World Street Food, Roaming mythical creatures, Burlesque Bass warriors, Undiscovered temples, The Bizarre Bazaar, Sunrise Drum Circles, Wellness & recovery centre, Circus school, Live Art, Body Painting, Lake Swimming, B.Y.O.Inflatable Party, Treasure hunts + loads more.
Cirque Du Soul's signature cocktail of burlesque, bass and uninhibited bohemia has cemented its reputation as the nation's favourite feel-good party with an edge. A travelling collective energy of colour, magic and dance; across the country, Cirque Du Soul create vibrant underworlds built of playful, open-minded partygoers, massive musical variety, weird and wonderful backdrops, and an unrivalled attention to detail unique to urban clubbing.
Cirque du Soul presents…
EL DORADO FESTIVAL
1-3 JULY 2016
Eastnor Castle, Ledbury
Final 2nd release tickets now available- £90