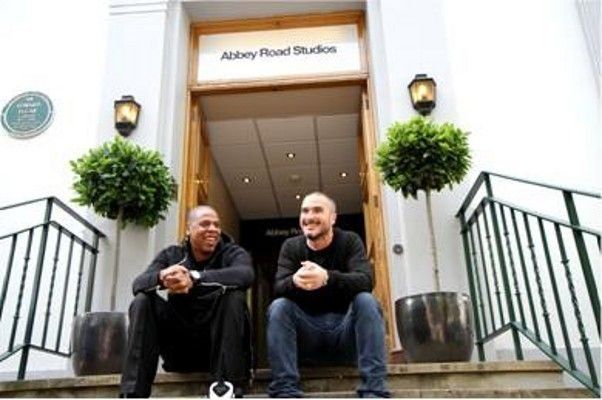 Jay-Z & Kanye's Four Day Argument
In an exclusive interview with BBC Radio 1's Zane Lowe, Jay-Z has talked about his four day argument with Kanye West whilst making Watch The Throne. Speaking at the historic Abbey Road Studios, the hip-hop legend spoke about Magna Carta… Holy Grail, Obama, touring with Beyoncé and being a father.
The four-part interview will be broadcast across Monday-Thursday (7-9pm) next week during Zane Lowe's Radio 1 show.
In one of the most anticipated interviews of the year, the hour-long interview covered many topics with Jay-Z discussing:
A four-day argument with Kanye West about the Watch The Throne album…
"We had this whole plan when me and Kanye did Watch The Throne album, that we would go right into our solos after that. Soon as I thought we had wrapped up Watch The Throne I made two records, I had Holy Grail and Oceans, no lyrics on Holy Grail and I recorded Oceans and I played those records for Kanye and he was like, 'No those have to go on Watch The Throne' so we spent four days arguing about those records and I was explaining to him why it wasn't right for this project and I had a whole idea for making this album called Magna Carta… Holy Grail the name came after. Four days, four day's literally arguing four days, not like fighting, well there was some pushing at one point but not between us, just everyone else got a little excited."
Why Jay-Z stopped working with Timbaland …
"The fall out happened at the end of that album (The Blueprint 3), it really happened, the way the album happened, a couple of songs were getting leaked that were his songs and that whole thing just ruined the whole process and I wanted him and Kanye to produce and Kanye who was the Executive Producer of The Blueprint 3 was like 'Yo, let's get Tim, lets bring Tim in' and we were all inviting to him and he just wasn't accepting of the process and it seemed like it was more about him than the actual album. When you're going and making an album you have to put all egos aside, I'm putting egos aside, everyone has to put egos aside for the sake of the project and he wasn't accepting of that thing and that was almost like the last straw type of thing. So we just went our separate ways and after those concerts when he came back I'd seen a new Timbaland he has this maturity and this growth and I was like 'Oh okay, this is going to work out."
The making of BBC (a single on his new album) … it wasn't planned …
"It was Pharrell's 10th anniversary of BBC (Billionaire Boys Club), we went to the dinner, we hung out at the dinner. Nigo was there to honor Pharrell, we left from the dinner and we went to the studio, we got Nigo, Pharell, me, Bey. Justin was next door doing his thing and Justin walks in. Tim was meeting Nas, so Nas walks in and I was like 'Yo, what you doing here', he comes in the room, so now we got seven people and we're around this console right here and I say 'If we don't make a record tonight, shame on us'. You just hear the fun and the session was just party you know."
He doesn't want to move in political circles…
"I don't, but I don't want to though please… My thing is about hope, the hope that a person like Obama inspires in an entire nation, and even outside of the nation. Everyone outside of America was like 'Wow'. It was a time when people were getting this aversion to America, you preach these ideals, but you don't really practice them and that was a major turn for us … everyone's getting a shot at it, any colour, creed and we dealt with racism in America in that way, that there is a black president, it still exists… of course it exists, but we dealt with that in some way. We have to deal with sexism of course, that's the next thing. But what I support, other than Obama is a great guy a more than a capable president, is the hope that he represents to a generation of kids who grew up like me, they can achieve this American dream, I'm pretty much into that idea."
About being a father and having a purpose greater than his own…
"I've always been pretty self correcting and wanting to grow, wanting to evolve as a person so I was always thinking about ways and thinking about the things that I was doing and thinking about karma and thinking about how can I further myself, learning from my mistakes and trying to be a better person and then something happens … and then when you get older, you're ready to have a child and your world opens up and its just like all the things that you've been trying to learn, it just happens, it just happens for you if you're ready."
About daughter Blue Ivy's personality…
"Very thoughtful and very inside of her own mind, pretty much like her Pop, she will answer in her own time … the birth of my child gave me this new energy and focus."
Talking about possibilities of a tour with wife, Beyoncé…
"Its always floating out there, it's floating out there. We just don't want to make it a schnick (gimmick). It has to be the real thing and its slowly making sense, more sense every day, every day it's making more sense – as far as a tour, but not an album.
Other big named guests will also be speaking to Zane Lowe next week, part of his biggest week of the year.
Listen live on BBC Radio 1, via mobile and the BBC iPlayer Radio app. You will also be able to watch the interview at http://www.bbc.co.uk/radio
Words: Zane Lowe