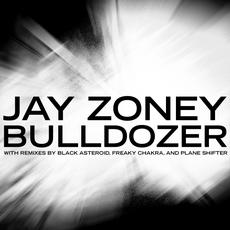 Jay Zoney – Bulldozer (feat. Black Asteroid remix)
Newly-formed Vancouver-based techno label, Eternal Drive Recordings, is preparing for the launch of its debut release 'Bulldozer' by founder, Jay Zoney (also involved with fellow Canadian techno label, Subspec Music). The four-track EP will drop on March 7th, complete with a trio of remixes by Freaky Chakra, a mysterious new artist by the name of Plane Shifter, and none other than techno maven, Black Asteroid, AKA Bryan Black.
The original mix of 'Bulldozer' is a fresh warehouse techno cut that's locked directly into a dancefloor trajectory. A dark, big-room thumper, the track is based on Zoney's signature progressive techno sound and fused with sleek machine grooves. Black Asteroid's remix is an angular, stripped down interpretation in his own unique style, yet with a more laid-back approach than that for which he's commonly known. Freaky Chakra, AKA Daum Bentley, delivers a rolling, organic West Coast-style rebuild, lightening up the vibe just a touch, while Plane Shifter makes his artistic debut on Eternal Drive by dismantling the original and finding new grooves within its pieces.
"With 'Bulldozer' I've gone for a straightforward dark techno track, leaving some space in-between for the individual sounds to shine through," explains Zoney. "I also tried to create a few sections that DJs could loop quite easily if required using CDJs or software like Traktor, so they can use the track as a full piece if they want, or they can sample parts of it if they need to. It's a straight-up banger, but it also gives your mind some time to think – that is until it builds up to the break when it quickly turns into noise and madness. My good friend DJ Sleepwalker said it sounded like a bulldozer charging into some rubble, so that was how we came up with the title!
"Daum [Freaky Chakra] has reworked the track with a slightly groovier sound; not quite as dark as my original. Plane Shifter has made it even larger and louder, with lots of noise, and I think his version will sound great in a big dark room. Bryan [Black Asteroid] took a much more subtle approach compared to his usual style, but I really like what he came up with here – it's a stripped-down vibe but it's got that super rolling bottom end that really drives things forward."
"I took on the remix because I really like what Jay is doing at the moment and obviously thought the original was great," adds Black Asteroid. "but instead of just banging out some craziness like I might ordinarily do, I added a little more atmosphere and went a little bit deeper. The original already had an element of my usual sound so I thought I was going to take it somewhere else, so it was fun for me to do something different to what I was used to. I'm going to start playing it in my sets very soon and I'm really curious to see what the reaction is going to be from the techno crowd!"
Speaking about the launch of Eternal Drive Recordings and the philosophy behind the label, Jay Zoney comments: "It's been started up as a sister label for Subspec Music, and it will represent a more focused big room techno sound. It's going to be an outlet for darker, more driving techno than Subspec, hence the name of the label. Subspec features elements of this sound and has been very good at releasing a broader spectrum of techno. EDR will be dedicated to the big room warehouse sound, so people will come to know exactly what to expect from the label."
Keep an eye out for future EDR releases – the next four EPs are already in the pipeline and will feature the likes of Plane Shifter, Andrei Morant, JGarrett, Luis Flores, Uun, Woody McBride, James Kelley and, of course, more heavy grooves from Zoney himself.
FAO blogs: previews available on the Soundcloud page – URL below.
eternaldrive.ca
soundcloud.com/eternal-drive-rec