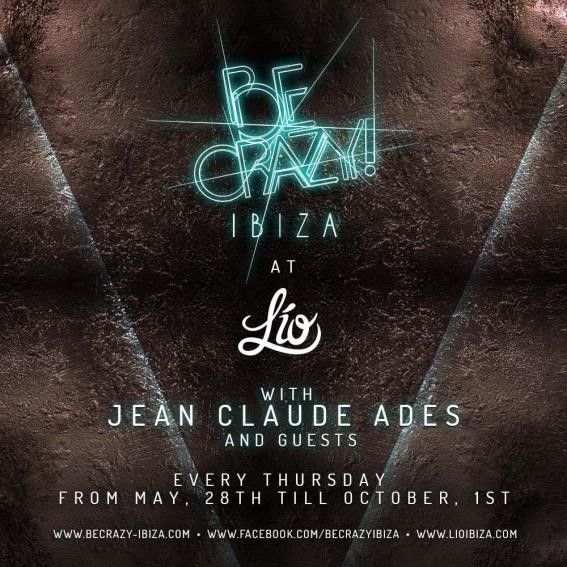 Jean Claude Ades announces the return of Be Crazy @ Lio
As summer fast approaches, anticipation is rising for this year's instalment of Jean Claude Ades' return to Ibiza's most extravagant venue Lio with his 'Be Crazy' party.

Curated by Ibiza veteran Jean Claude, 'Be Crazy' is the Thursday night party that marries incredible visuals with melodic house music, laced with melancholic grooves to create it's own unique atmosphere. Lio, with its stunning waterfront location and beautiful decor is the perfect place for clubbers to leave their inhibitions at the door and fully embrace the party.

The creative concept of Be Crazy is the culmination of a life's work for resident DJ and producer Jean Claude Ades. His DJ style is both seductive and infectious, with line-ups specially programmed to allow DJs the time and space to truly shape the course of each event. Jean Claude invites illustrious guests to help guide the night, creating a seductive soundtrack of the most infectious music, faultlessly delivered in the most enviable location in Ibiza's five star marina.

Since last year's closing party, the 'Be Crazy' team have been busy introducing their Balearic clubbing concept to venues across the globe.

Jean Claude Ades held several Be Crazy events at Pacha during the winter months including a huge Halloween event featuring Technasia, a New Year celebration with Âme and a pre-summer party over Easter with John Monkman. Be Crazy now announces its return to Lio for the summer.

Be Crazy is a party that contains the true underground energy of the island and Jean Claude Ades has connected his Be Crazy night straight to the main vein of the island. Join Jean Claude and guests every Thursday from the 28th May through to the 1st October.
28.05. Opening Be Crazy with Jean Claude Ades / Markus Worgull
04.06. Jean Claude Ades / Tiefschwarz (Ali)
11.06. Jean Claude Ades / Betoko
18.06. Jean Claude Ades / John Monkman
25.06. Jean Claude Ades / MANTU