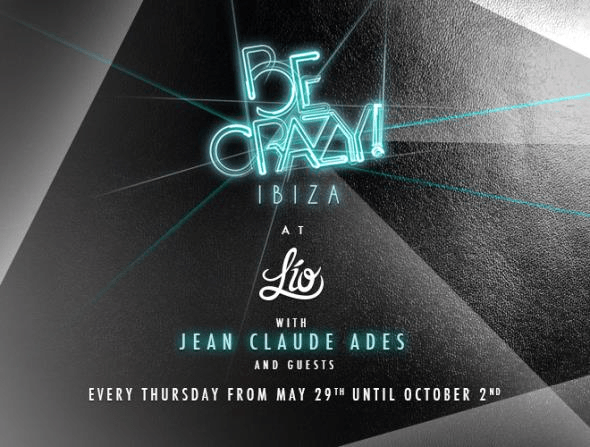 Jean Claude Ades confirms BeCrazy! residency al Lío Ibiza
Dropping anchor in Ibiza Town's Marina every Thursday night from 29th of May until 2nd of October 2014.
When Lio reopens its doors to Ibiza's glitterati this summer, it will do so welcoming the return of Jean Claude Ades' BeCrazy! Parties. Although Jean Claude took to the Ushuaia Tower for an amazing summer season in 2013, this year the prospect of returning to Lio to rekindle the special unique atmosphere of his epic 2012 residency was too hard to resist.
The elements are all in place for a series of unforgettable nights in the breathtakingly beautiful Ibiza Marina: The Pacha Group-owned venue's exclusive setting and strong architectural design, the exclusive vibe created by BeCrazy! events, Jean Claude's perfect blend of hedonistic deep and melodic tech house and the brand's international followers, all come together to ensure Thursday nights at Lio are the place to be for sophisticated music enthusiasts.
At its core, Lio is a stunning high-end restaurant that complements its delicious offerings with live shows and performances in a tasteful atmosphere before transforming into a fully-fledged club. No seasoned clubber's visit to the island is complete without passing through Lio.
Visitors can enjoy stunning views of Ibiza Town and the Dalt Villa with the feeling of being afloat on the ocean whilst dining, dancing and enjoying world class entertainment as the venue is built on a peninsula affording it oceanic views from every aspect.
It is not surprising that the venue has collaborated with DJ and producer Jean Claude Ades and his international 'BeCrazy!' brand. BeCrazy! is a hedonistic affair reminiscent of the true Ibiza spirit that is often lost amongst other, more contemporary parties on the island, with a vibe not dissimilar to that of the Paradise Garage and heavy emphasis on making everyone that attends feel like they are a part of something special. It is sexy and fun with just a touch of decadence, working in perfect synergy with the mantra of Lio.
Guest artists confirmed to pass through Lio for the opening fiesta include Philipp Jung (M.A.N.D.Y) who, as well being a true island veteran, is also front man of Get Physical and makes for a very welcome guest to the BeCrazy! family. Rony Seikaly will also be making an appearance, having become known for supplying underground house in abundance at his Sugar Free parties. Other guests include MANTU, part of the Get Physical family and BeCrazy! Music label manager who has made a name for himself by showing the word his unique take on deep house and throwing a series of successful parties around Berlin. British house music mainstay John Monkman rounds off the billing with his arsenal of dance floor igniting productions, which have cemented him as a go-to artist for both BeCrazy! Music and Get Physical.
Jean Claude Ades or JCA, as his loyal supporters call him, is the ideal choice to lead the after-dark proceedings when the dining room turns into a dance floor. To get a taste of what's really in store musically, check out Jean Claude's latest release on BeCrazy! Music. His EP 'Coming Home' dropped on April 21st.