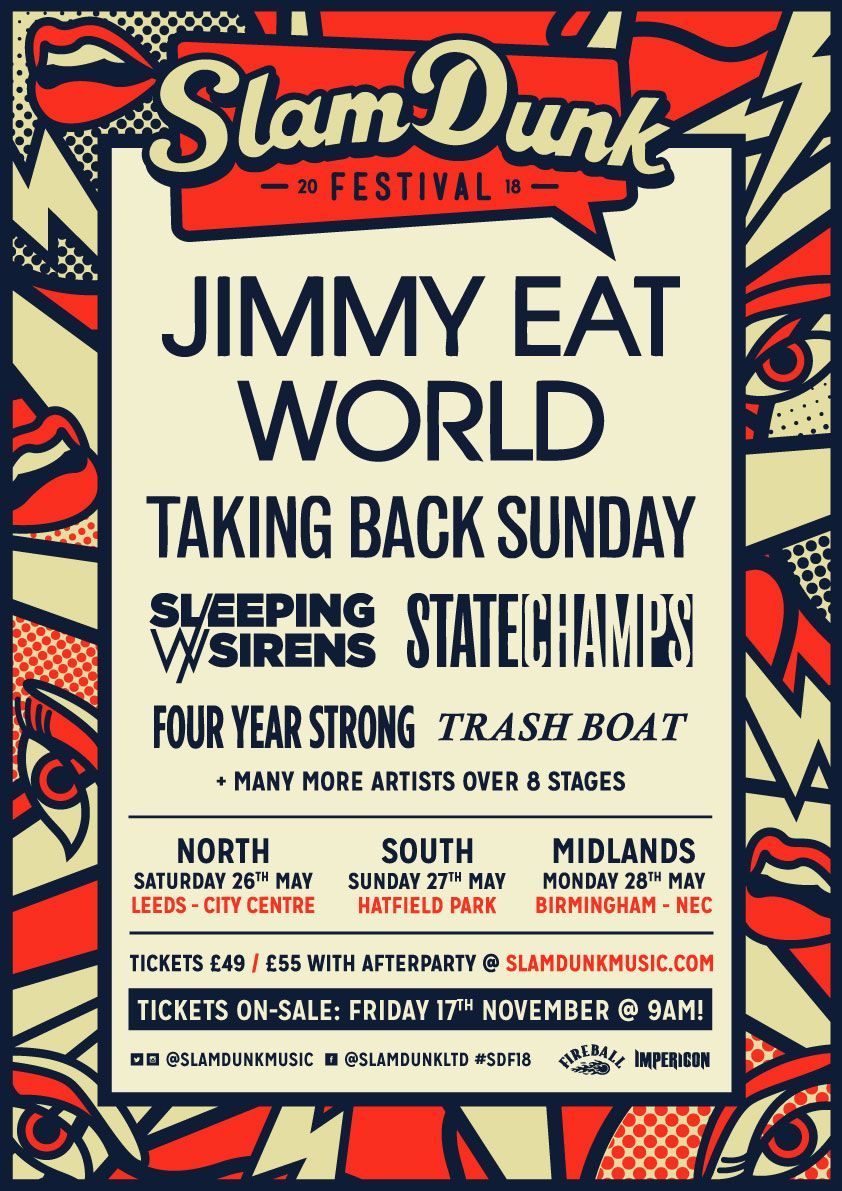 Jimmy Eat World Headline Slam Dunk Festival 2018
Slam Dunk Festival is proud to announce the first six bands that will take to the stage for 2018. The festival is set to return for it's biggest year to date as the legendary and anthemic Jimmy Eat World will take to the stage in their debut Slam Dunk Festival appearance. They will be joined by emo leaders Taking Back Sunday, party-starters Four Year Strong, post-hardcore heroes Sleeping With Sirens, pop-punk's hottest property State Champs and fast-rising mob Trash Boat, all of which are poised to deliver the performance of the summer at next year's unmissable pop-punk party. All six acts will be gracing the Slam Dunk Festival stages as UK festival exclusives.

Responsible for powering an entire cult movement with pioneering songwriting and unfaltering live performances, Jimmy Eat World's beloved works 'Bleed American', 'Futures', all the way to the most recent, 'Integrity Blues' are nothing short of expert masterpieces. The stalwarts continue to captivate audiences and inspire pop-punk rock acts of the modern era – influencing sounds across multiple genres and playing to thousands of fans through countless time-zones. Their riotous debut appearance will no doubt be full of euphoria and nostalgia at Slam Dunk Festival.

Joining the Arizona heavyweights, are the New Jersey kings of heartbreak, Taking Back Sunday, who will be bringing their highly-anticipated act to Slam Dunk Festival 2018. Their strike rate on hit records speak for themselves; alongside 2002's 'Cute Without The E (Cut From The Team)', the likes of 'Make Damn Sure', 'A Decade Under The Influence' and 'Make Damn Sure' have not only helped them attain chart success here but also a vehemently loyal fanbase worldwide.w

Floridian icons Sleeping With Sirens are set to return to UK shores with a remarkably coveted performance which is set to win the hearts of many next summer. Armed with a catalogue of undeniable rock tracks, packed full of soaring guitars and sublime vocal melodies, the troupe lead by charismatic vocalist Kellin Quinn are at the top of the game. Expect the classics and fan favourites from the first 4 albums, alongside mind blowing singles from recently released 'Gossip' album when they stun audiences at Slam Dunk Festival 2018.

Shaun Cooper of Taking Back Sunday says:
"We are very excited to announce our return to the United Kingdom in May for Slam Dunk. We have had such a great time in years past we felt very fortunate to receive an offer we couldn't refuse. We will be sharing a stage with the legendary Jimmy Eat World! We can't wait to see you at the shows"
Kellin Quinn of Sleeping With Sirens says:
"Can't wait to get back and rock Slam Dunk Festival next year!"
Leading with anthemic singalongs and unrelenting breakdowns alike, Four Year Strong, State Champs and Trash Boat will be making their return to Slam Dunk Festival.

Renowned for their exhilarating live show, Four Year Strong will be bringing their extensively energetic back catalogue to the festival with acclaimed hit singles such as 'Heroes Get Remembered, Legends Never Die' and 'Wasting Time (Eternal Summer)' to stir a raucous Slam Dunk crowd.

Joining Four Year Strong in a journey from stateside straight to Slam Dunk Festival will be State Champs. Returning to the festival after their debut appearance in 2014, the band are poised to showcase the hottest tracks from the acclaimed Around The World And Back, as well as delivering energetic show-stopping crowd-pleasers like 'Elevated' and 'Deadly Conversation' for what promises to be one incredible set.

St Albans natives and Hopeless Records posterboys Trash Boat are also set to deliver a show stopping performance, packed with raw cathartic hooks and bouncing choruses as they return to the coveted Slam Dunk Festival stage.

Four Year Strong says:
"We've loved the UK ever since our first trip over in 2007, nothing's changed. Oh yeah, and Slam Dunk is fun too!"

State Champs' Derek DiScanio says:
"Slam Dunk was the first UK Festival we ever played on our first trip overseas in 2014. We've been eager to dunk again, and 2018 is our year. Everyone involved with this festival is top notch and I can't wait to make some new memories with everyone attending this time around. It's gonna be wild."
Trash Boat says:
"SLAM DUNK! 2018 will be another year where we can say we are part of this awesome festival. The line-up is already stacked and there's so much more on the way. Who knows, we may even have some new music coming out by then. See you there. TB x"
As well as announcing four prized pop-punk acts, Slam Dunk Festival is delighted to announce that Slam Dunk South will now take place at Hatfield Park, having outgrown its former home, the University of Hatfield.
Over double the size of the previous location, Hatfield Park is located in the grounds of Hatfield House and situated directly opposite Hatfield train station, making it even more accessible and accommodating for festival goers wishing to revel in Slam Dunk Festival's alternative extravaganza.
Festival Director, Ben Ray comments:
'Slam Dunk Festival South has been taking place in Hatfield since 2010 so the town has truly become our home. Therefore, I am extremely happy we managed to find a new site still within the town. We are sad to leave the University however the event was selling out months in advance so we knew we had to move it and make it bigger due to demand from the fans.'
Slam Dunk Festival will begin in it's spiritual home of Leeds, Millennium Square, before travelling to the new location of Hatfield Park, and finishing at the beloved Birmingham NEC.

TICKET INFORMATION
Tickets on sale at 9am, Friday 17th November from http://slamdunkmusic.com/
Cost £49 or £55 including the infamous afterparty. All subject to booking fees.
New for 2018 will be an installment scheme. Customers will be able to reserve their ticket for a small cost and pay the rest in installments up to the event.