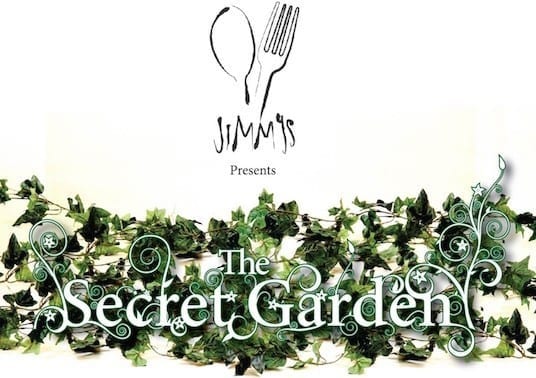 Jimmy's Presents – THE SECRET GARDEN
Fresh off the back of his recent roadblock, sold out winter pop up, The Lodge, Jimmy Garcia launches his latest culinary adventure, The Secret Garden!
Kicking off next month and spanning the whole of this Spring/Summer 25th April – 31st August, The Secret Garden will be nestled behind a wooden door at 409 Clapham Road, where a surprising and enchanted world awaits, fabulously set designed by London's awesome Firecracker Works, who also designed The Lodge.
Jimmy and the team are passionate about giving their guests a unique and delicious dining experience and the Secret Garden is no exception: diners will be treated to a food menu designed to showcase the best of Britain's tasty garden produce with standout menu features such as indoor BBQs, tasting menus, small plates, snacks at the bar and 'edible garden' desserts, alongside fresh, unique and creative, botanical themed cocktails, all available into the early hours.
Firecracker Works will be transforming an epic space at 409 Clapham Rd in central Clapham North into stunning immersive dining experience. Find the wooden door, reach past the vines, whisper the password and step into an all-new edible adventure.
Sundays will see the return of Jimmy's infamous 'Slow Down Sundays'- a day for maximum relaxation, expect chilled out vibes, lounge music, hangover curing cocktails and a selection of slow roast meats and all the trimmings (alongside a special daily menu)
SECRET GARDEN FOOD
Jimmy is constantly searching high and low to bring the finest seasonal produce from the best artisan suppliers to the table. From his team of foragers, who will be supplying the best the Kentish countryside has to offer, to the chorizo Jimmy's dad imports from his hometown in Asturias made by third generation butchers.
His trusty gamekeeper friend Rick will once again be hunting the wild game, and Chef Louie's family will be providing us with some of the fantastic veg from their family farm, Dymmock Farm in Brighton.
Take a peek below at The Secret Garden's sample menu created by Jimmy, Chef Louie 'BBQ'ey' Franklin and the team.
Please note, there will also be a 7 course tasting menu available, a bargain at just £35.00 per person
///////////////////////////////////////////////////////////
JIMMY'S SECRET GARDEN MENU
THE PATCH
'Peas and Love!' Garden Peas, Pea and Mint Mousse,
Neal's Yard Goat Curd, Hazelnut Crumb, Confit Lemon, Lemon Vinaigrette – 7
Wild Garlic Soup, Crispy Poached Truffle Egg – 6.5
'Asparagus Bed' Asparagus, Mushroom Puree, Potato Soil, Parmesan – 8
'Back to the roots' Roasted salad of heritage carrots, beet
baby onions and parsnips – 8

THE FIELD
'Run Rabbit' Wild Rabbit Loin, Pickled Baby Veg, Smoked Rabbit Veloute,
Rabbit Bon Bon, Crispy Sage leaves – 9
'Papa G's Chorizo' Chorizo and Guinea Fowl ballotine,
Crispy Skin Shards, Chorizo and Spinach Risotto – 9.5
'Porky Beans' Belly, Cheek, Smoked Eel and Pork Beigneit,
Martok and Bacon Beans – 8
Venison tartare, Wild Garlic Puree, Pontac Elderberry Vinaigrette,
Beet Carpaccio – 9

THE POND
'Smoked Salmon Sundae' Ice Cream, Fish Skin Wafer, Confit Salmon,
Seawater Pearls. Lemon and Dill Oil – 9
Seared Sea bass, Deep Fried Oyster, Pickled Cucumber, Squid ink Pearls,
Cider Emulsion – 8.5
Scottish River Trout, Fennel Ceviche, Lemon Balm, Sorrel Salsa Verde – 7.5

BBQ
– 23pp, min of 2pax
Jimmy will be introducing indoor BBQ's to the 'Secret Garden' and
will be providing all the necessary tools, meats, marinades and salads
to host your very own indoor BBQ.
A tabletop BBQ will allow diners to cook our selection of three types of
organic meats, brush on secret marinades, and enjoy the delights
of summer without the risk of a downpour.
Organic Applewood Smoked Pork
Corn Fed Chicken Breast
28 Day Aged Ribeye Minute Steak

MARINADES
Garden Chilli Jam made from our in house Chilli plants
Our Secret BBQ Sauce
Wild Garlic and lemon

SIDES
Secret Garden Coleslaw, toasted almonds, sesame seeds
Heritage tomato, Onion, Wild Rocket and Radish salad
Baby Corn
Crusty Bread
Ratte Potato Salad, Crème Fraiche, Cornichons, Capers, Crispy Serrano Ham

DESSERTS
The Edible Garden – 7.5
Earl Grey Bergamot lemon tart, Crème Fraiche – 6.5
'Strawberries and Cream'- Macaroons, Jelly, Shortbread, Meringues,
Elderflower – 6
Jimmy's Ultimate Ice Cream Factory Dessert – 6.5

BAR SNACKS
Guinea Fowl Drummers, Secret BBQ Sauce – 5
Goat's Cheese and Croute Plant pot – 3.5
Rabbit Bon Bons and dips – 4.5
House Pork Scratchings – 3
Secret Garden Canapé Box – 7

COCKTAIL EXAMPLES
Peas, Shoots, and Leaves
50ml Portobello Road Gin
15ml Cocchi Americano
15ml Cold Lemon Verbena Tea
15ml Lemon Juice
12.5ml Gomme
Handful of Pea Shoots
1 mint leaf
Shake, strain and garnish with edible flower and pea shoots (straight up martini glass style)

Dilliusion

50ml Portobello Road Gin
15ml Elderflower Cordial
15ml Lemon Juice
5ml Gomme
1 inch cucumber slice
1 large sprig of dill
Muddle cucumber and dill, shake and strain all other ingredients
Garnish edible flower and dill (straight up martini glass style)

Jimmy has been popping up all over London since February 2011 from Lodges to Warehouses!
Some of Jimmy's past sell out pop ups include, Southwestsupper Club, Savoyard Supper Club, Wild Food Kitchen, Jimmy's Olympic Supper Club at Annex East, Jimmy's Pop Up @ DVine Cellars and most recently, The Lodge, Balham.

Jimmy and his team also offer full in house bespoke events and weddings, for a quote please email [email protected] or [email protected]
For all the latest Secret Garden news and to book a table please go to:
http://jimmyspopup.com/the-secret-garden
///////////////////////////////////////////////////////////////////////////////////////////////////////////
JIMMY'S SECRET GARDEN POP UP LISTINGS INFORMATION:
WHAT: JIMMY'S SECRET GARDEN POP UP
WHEN: Saturday 25th April – Sunday 31st August
WHERE: Behind the wooden door, 409 Clapham Road, SW9 9BT – opposite Clapham North Station
WEBSITE: http://jimmyspopup.com/the-secret-garden
https://www.facebook.com/JimmysUndergroundPopUpRestaurant?fref=ts
PRICES: Food ranges from £3 – £9.50 and 7 course tasting menu for £35.00 per person
BOOKINGS: 020 7737 0722
Please book via the online system at http://jimmyspopup.com/the-secret-garden
OPENING HOURS:
Monday – Thursday – 5pm – Midnight
Friday – 5pm – 1am
Saturday – Midday – 1am
Sunday – Midday – 7pm