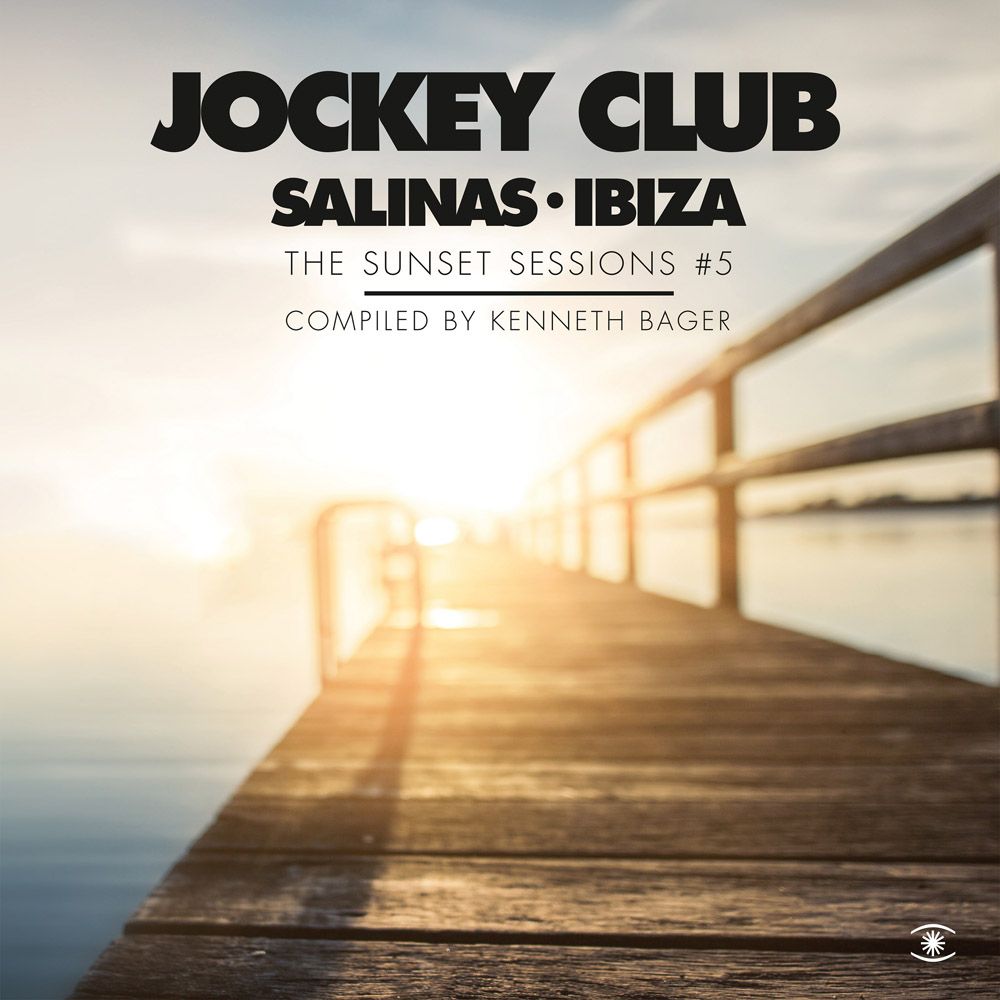 Various Artists - Jockey Club Salinas – Compiled by Kenneth Bager
Music For Dreams is set to release this year's Jockey Club compilation album on CD and digital on Friday 7th July.
Jockey Club, Salinas, Ibiza, The Sunset Sessions Vol 5 is collaboration between the Ibiza beach institution Jockey Club and Music For Dreams label owner Kenneth Bager who is hosting parties at the venue this summer on Saturday 29th July, Saturday 5th August and Saturday 9th September.
Jockey Club was launched as a restaurant on Ibiza's legendary Salinas beach in 1993 with the spirit of a lively, original chiringuito (outdoor bar). The bar has become infamous for its DJs who create a laidback, sandy soundtrack every day from 3pm until sunset.
Kenneth Bager is Denmark's most prodigious DJ, and a global torchbearer for Balearic and chilled sounds with his Music For Dreams label has helped to re-popularise chillout music in it's spiritual home of Ibiza. Kenneth is also the music curator and promoter of the Apple Flower Festival as well as the internationally renowned Coma Club in Copenhagen. He also hosts his own 2-hour weekly eclectic national radio show in Denmark on National Radio P6, and a weekly show on Ibiza Sonica plus he has just launched his own streaming Radio Music For Dreams radio on: Musicfordreams.dk. Since its inception, the label has sold over 2 million albums and their artists have been featured on more than 1500 different compilations worldwide.
This double CD is the fifth release in the series of 'The Sunset Sessions' and features exclusive tracks including Jacob Gurevitsch, Kojo Antwi , Ambala, Troels Hammer, Mackrory & Collier and Islandman, among many others.
Kenneth has selected some seriously beautiful new music for this compilation including the fantastic cover version by Jeb Loy Nichols of the Luther Vandross classic 'Never Too Much'. The excellent new Danish artist The Swan And The Lake is represented here with the beautiful Mallorca inspired 'Port d*Andratx (Part 1 sun)' featuring Johan Liepstack on guitar. Also featured here is the drum machine-driven afrofunk of 'Meribebeba' by Ghanaian afro-pop, high-life and reggae artist Kojo Antwi – originally released in the 80's and currently shifting hands for a small fortune. Former Bombay Hotel members Mikkel Nordsø and Ole Theill deliver the essential Cafe Del Mar sunset piece 'Japtal' taken from their latest album 'Nordsø & Theill', which Manchester legend DJ Moonboots rates it as one of the best albums of the last ten years! Also on a Manchester tip is Ruf Dug's beautiful tribute to Compass Point producer and keyboard player Wally Badarou – simply called 'Thank You Wally'.
Balearic legend DJ Pippi gets the remix treatment by the French house producer Folamour and the result is a funky housed up Theo Parrish inspired dream like journey of the album track 'So Beautiful'. Folamour strikes twice and his sunny song 'Every Day Is A First' suggests he is a name to watch. The German duo of Blank & Jones deliver their tribute to the White Isle with the Mike Francis 'Features of Love' flavoured 'So Eivissa'. Another highlight of this essential package is the gentle semi-scat instrumental groove of 'Foto Feita do Avia~O' provided by legendary Danish percussionist Jacob Andersen presenting his new venture Bongo Entp. The massive club masterpiece 'Wonky Bassline Disco Banger' with that unmistakeable hard hitting ruff bassline by Red Rack'Em aka Nottingham based producer Daniel Berman is another great inclusion. The guitar player Jacob Gurevitsch, known for 'Lovers In Paris' is featured with 'Zsa Zsa' a solo guitar based work, taken from his new 'Cinematique' EP. Jacob also features as a guest with label mate, classical composer and producer on Troels Hammers 'Sunrise at Beira Beach'. The Ibiza Anthem Pochill 'Fransesca Road' is included in the DJ Pippi and Kenneth Bager Dub Mix featuring Danish duo Dalholt and Langkilde.
Hypnotic and modern hippie vibes are represented by the San Fransisco based duo of Peaking Lights 'Little Flower' features actress and fashion designer Chloé Sevigny. Italian mixer and producer LTJ Xperience has been making waves the last couple of years with the magnificent production of 'Beggar Groove' – a special blend of harmonica solos on a funk groove – and one of compiler Kenneth Bager's personal faves. Also exclusive to the album is the production of the Indian vibes of 'Wadijha' by Dalholt and Bjarno. Former Cafe Del Mar DJ Phil Mison's new funky outing Ambala feat. Danish legends Laid Back, 'Walk With The Dreamers', has been remixed here by Ibiza Amnesia legend Leo Mas and partner Fabrice. Label honcho Kenneth Bager is included with an ambient version of the title track from his latest artist album 'Premiere Classe'. The track features the fantastic Neapolitan keyboard wizard Tuccinelli. Kenneth's string based, dubby beach excursion of Danish duo's Dalholt and Langkildes 'Disco Disco' is another Mediterranean beauty.
Kenneth will be playing on Friday 23rd June, COMAclub boat party, Copenhagen; Wednesday 28th June, Kunsten art museum, Aalborg Denmark; Saturday 1st July, Love International fesival, Croatia for the Aficionado Sunrise session; Saturday 29th July, Jockey Club, Ibiza; Saturday 5th August, Jockey Club, Ibiza; Sunday 6th August, Pikes, Ibiza; Tuesday 8th August, Hostal La Torre, Ibiza; Wednesday 23rd August, Kunsten art museum, Aalborg DK; 1st September, Gilleleje festival, DK; Saturday 9th September, Jockey Club, Ibiza; Saturday 21st October, COMAclub, Copenhagen.
'Jockey Club Salinas, Ibiza – The Sunset Sessions #5' is released by Music For Dreams on digital, CD and stream on Friday 7th July 2016.
Tracklist:
1. Troels Hammer – Letters From Uhuru (feat. Rodrigo Sha)
2. The Swan And The Lake – Port d'Andratx (feat. Johan Liepstack) [Part 1 'Sun'] 3. Peter Visti & Lukas Visti – Besezeppe
4. Nordsø & Theill – Japtal
5. Jacob Gurevitsch – Zsa-Zsa
6. Ruf Dug – Thank You Wally
7. Jeb Loy Nichols – Never Too Much
8. Islandman – Night Wind
9. Circles Of Sound – Going Somewhere With You (Extended Mix)
10. Blank & Jones – So Eivissa (RunSQ Remix)
11. Kojo Antwi – Meribebeba
12. Bongo Entp. – Foto Feita do Avia~O
13. Cathy Claret – La Chica Del Viento
14. Ambala – Walk With The Dreamers (feat. Laid Back) [Leo Mas & Fabrice feat. Giorgio Li Calzi Remix] 15. The Kenneth Bager Experience – Premiere Classé (feat. Tuccinelli) [Ambient Mix] 16. Mackrory & Collier – Lucky Charm (Andi Hanley Edit)
17. LTJ-Xperience – Beggar Groove
18. Dalholt & Langkilde – Disco Disco (Kenneth Bager Vs Dalholt Beach Club Mix)
19. Pochill – Francesca Road (DJ Pippi & Kenneth Bager feat. Dalholt & Langkilde Dub Remix)
20. Peaking Lights – Little Flower (feat. Chloe Sevigny)
21. Bjarno – Moving Clouds
22. Dalholt & Bjarno – Wadijha
23. Manetti – Honey Tribe
24. Folamour – Each Day Is A First Day
25. COEO – Mydonna
26. Red Rack'Em – Wonky Bassline Disco Banger
27. DJ Pippi – So Beautiful (Folamour Lost in the Moment Vocal Remix)
28. Troels Hammer – Sunrise At Beira Beach (feat. Jacob Gurevitsch)