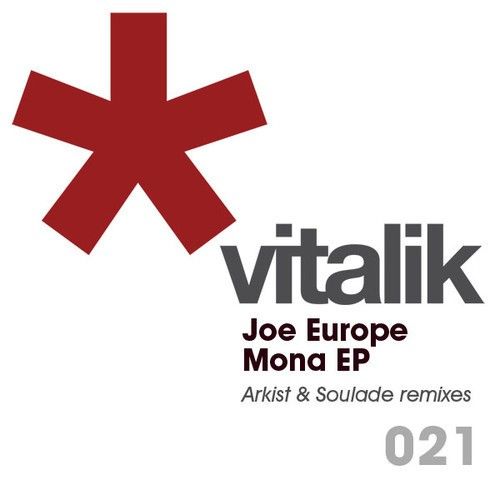 Joe Europe – Mona EP
Joe Europe made his Vitalik debut with "Smash & Grab" on the label's We Love… compilation back in 2011. After huge support, he soon followed with the Joe Europe EP; a five track EP that established his deep, entrenched style. Marking his ability for creating catchy, memorable melodies, the EP saw early support from The Revenge, Danny Daze, Jozif, Droog, MANIK and Crazy P. It also received rave reviews DJ mag, Ibiza Voice and was featured in Mixmags "killers" section. Now Joe returns to the Vitalik imprint with an EP that lays down the rules, whilst also breaking a few along the way.
Kicking off with Brevity, the subtle timbres are punctuated by fluctuating basslines and acid soaked melodic top-lines. Evolving and mutating over soft ethereal pads, this slice of daydreaming house paves the way for the rest of the EP's flourishing trajectory.
Take Extra Care notches the tempo up more, weighed down by subtle pads and widescreen ambient bass, laying down the foundation for a track that aims as much for the heart as it does the feet, before breaking down into pulsing basslines on the breakdown, snapping snares and bulbous kick drums.
Rules moves proceedings back to more subtle territory. Stiffened, Detroit-esque pads wash over a modulating five bar bass loop, creating what seems like random moments of phasing and resonance as the track gently strolls along at a casual pace taking the mood back to earth after the previous track's climactic explosion.
Arkist is one of the new wave of Bristolian producers redefining the intersection where house and bass culture reside in tandem together. His previous releases on labels like Apple Pipps, Hypercolour, Hot Flush and Aus have earned his reputation as one of the UK's most auspicious young producers. He takes a classic deep house approach his remix of Rules, laidback beats and warms chords permeate throughout.
Soulade aims his mix firmly at the dance floor to wrap up the package, picking up the pace, adding a fattened 909 kicks, analogue-esque techno molded claps and a stepping rhythm rooted in the aesthetics of the party. All in all, the Mona EP travels through all manners and expressions of house music.
Label: Vitalik
Released: 17/2/2014
Distribution: Word And Sound
Cat no: VIT021