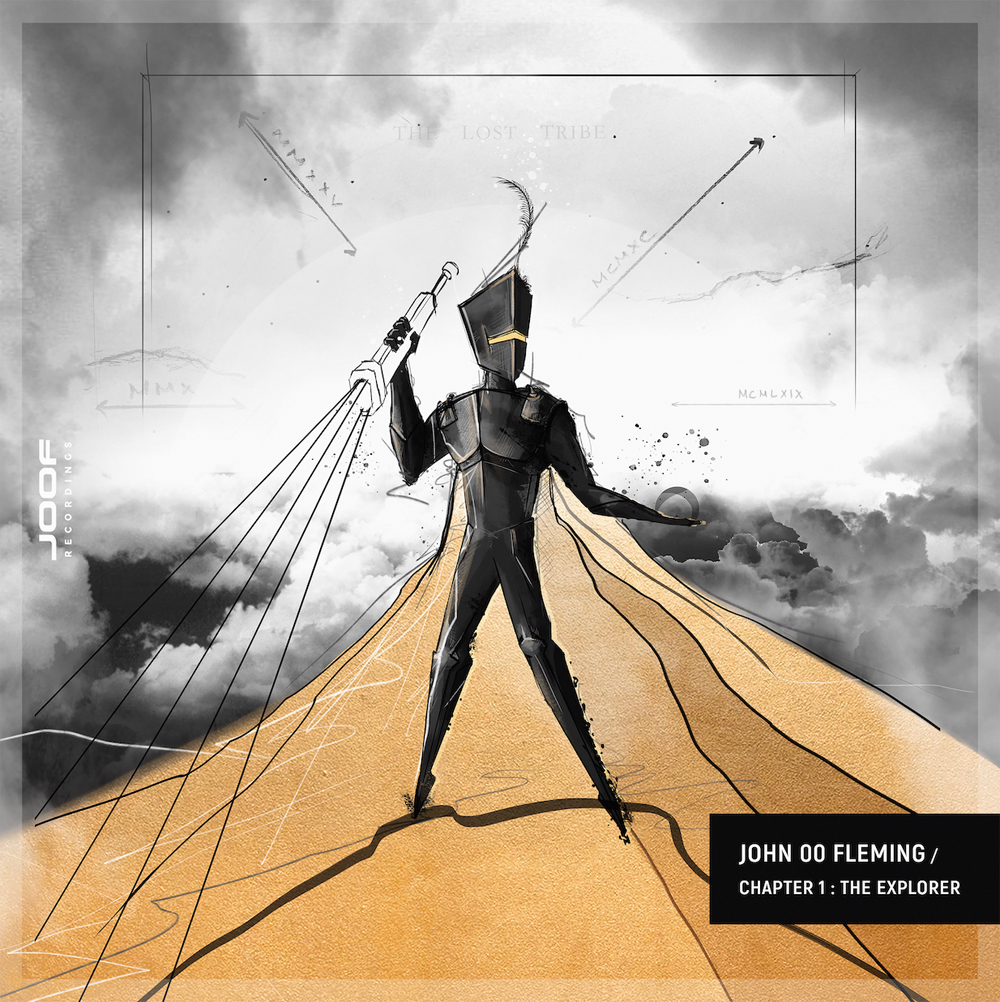 John 00 Fleming releases first single in two years. Chapter 1: The Explorer available now
What exactly John 00 Fleming has in '21-store is currently known to one person and one person only, but today we get a glimpse at least of what's on his studio-mind. Primarily that comes by way of 'Chapter 1: The Explorer', a leadingly titled release, which also marks his first single notch in 2 years. Playing a touch housier and a fraction less trance, it's an Earth-surveying sonic that terrestrially flips the perspective on 'Space Odyssey' – his last outing.
For the keener eyed, there are other intentional clues to unpack leaved within its audio and visuals. Its sleeve art features the first of a series of hand-drawn images from artists who were directly inspired by John's music and history. 'The Explorer's The Day The Earth Stood Still-evoking aesthetic (and title!) likewise provide signs of John's projected course through 2021.
Whilst the track tracks deeper than 'Space Odyssey', a common factor is 00 Fleming's mastery of the production's build – 'The Explorer' being another skilled display of potboil suspense. Down in its engine room it gear-shifts through pulse, stride, and march, whilst the midrange sees its leviathan tones swell up into a wonderfully portent-filled wall of sound.
"It's been a little while since I've released music, John contemplated on his FB feed around the time of 'Chapter 1's completion. 'The Explorer's isn't born from the extra time during lockdown. It's part of my development that I've been working on over the last couple of years, experimenting and looking to push new boundaries as I navigate forward into the future of the electronic sphere. As the title suggests, this will be the first of many heading your way, and just like my DJ sets there will be flavours of many to unfold a musical story for you, many inspired from my past experiences as will become apparent. 
John 00 Fleming's 'Chapter 1: The Explorer', – the track that started it all (or so you'll be saying come December!), is out today and available to stream through Spotify here (https://open.spotify.com/album/3wY4gCM3DDD6Wv512rphGD?si=LRKRx8fES2eplulaIFfBWQ) or purchase through Beatport here (https://www.beatport.com/release/the-explorer-chapter-1/3275189).
john00fleming.com
facebook.com/john00fleming
twitter.com/john00fleming
instagram.com/john00fleming