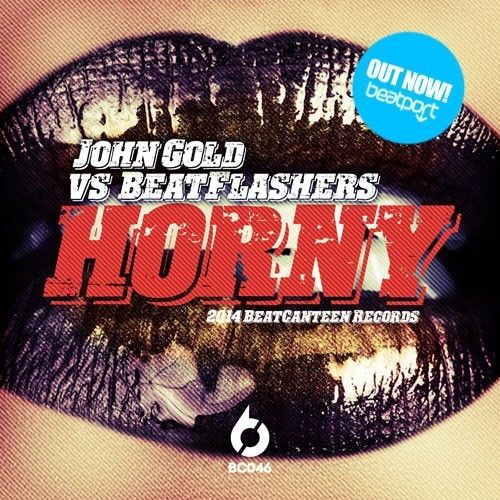 John Gold vs. Beatflashers – Horny
BeatCanteen Records has become a breeding ground for top draw House releases and label boss John Gold is happy to lead by example with his latest offering alongside Beatflashers which features a standout rework from House heavyweights Crazibiza. No doubt one of New York's best kept secrets, John's music has been beamed around the world via the likes of Warner Music, clocked up over 1,000,000 copies in compilation sales and been nominated for an International Dance Music Award. It's safe to say that John truly is a powerhouse in the studio and his DJ sets are just as potent as his production work.
'Horny' is a through and through BeatCanteen release. Produced to a world- class level – cool, groovy and stuffed full of melody, bass and rhythmic flavours. Leaning towards the more organic spectrum of the House music world – the producers are all proven talents who are all about that summer vibe that well executed House cuts radiate like no other music can.
The addition of a classy rework from Crazibiza will no doubt ensure the success of this package – a touch of class from a duo that can do no wrong when it comes to top-level organic House productions. Fresh off the back of a Miami WMC tour that saw them take over no less than thirteen venues, it's safe to say that conference revelers across the city have been enjoying their remix on what's no doubt the world's most famous annual electronic music industry gathering.
Beatflashers was setup by three of Hungary's most prominent talents back in 2012. Zoltan Mate, Attila Bodnar and Laszio Nagy merged their styles to create the unique Beatflashers sound before teaming up with John Gold for a truly global collaboration. Reinforcing this already massive package is a remix roster featuring some of House music's finest minds. Fronted by Crazibiza's awesome rework and backed further still by efforts from Funky Truckerz, Kevin Prise and Stereosoulz, rounding up a remix package that's up there with the best of them.
BeatCanteen don't know anything but the best in House music and this latest forthcoming release will only enhance that concrete reputation further still. 'Horny' is out April 15th.
BeatCanteen Records
www.beatcanteen.com
www.soundcloud.com/beatcanteen
www.youtube.com/beatcanteenTV
www.facebook.com/beatcanteen
www.twitter.com/beatcanteen
John Gold
www.soundcloud.com/djjohngold
www.twitter.com/djjohngold
www.facebook.com/djjohngold
www.beatport.com/djjohngold
Beatflashers
www.facebook.com/Beatflashers
www.soundcloud.com/beatflashers
www.youtube.com/user/beatflashers