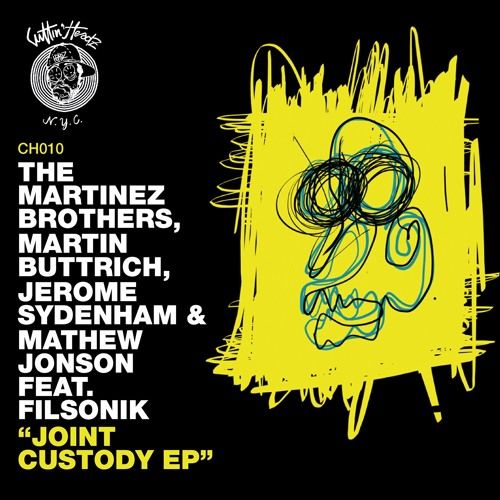 The Martinez Brothers, Martin Buttrich, Jerome Sydenham, Mathew Jonson - Joint Custody EP
The Martinez Brothers return to their own Cuttin' Headz label with a new two track EP. 'Joint Custody' features collaborations with Jerome Sydenham, Mathew Jonson and Martin Buttrich and is due for release on the 10th February.
First track 'No Pop' is a 12 minute acid-influenced workout, channelling both the Martinez Brothers' and Sydenham's taste for faster-paced dancefloor-ready basslines alongside Jonson's ear for the surreal; high-pitched chirps pitch down into classic acid stabs whilst a metallic distorted vocal echoes above clapping hi-hats.
'Affection Deficit Disorder' alongside Martin Buttrich continues this sense of quirkiness, the title's eponymous acronym repeated over a darker, grooving bassline and spacey keys. The duo's final collaboration with the producer, '9 Pound Hammer' appears as a bonus third track on the vinyl release.
The 'Joint Custody' EP is the Martinez Brothers' first release since the incredible success of last year's 'Stuff In the Trunk' featuring Miss Kittin. The release follows the pair's highly anticipated gig at the launch of landmark new London venue, Printworks.
For more information on The Martinez Brothers, please visit
https://www.facebook.com/themartinezbrothers/
https://twitter.com/themartinezbros
https://soundcloud.com/themartinezbros