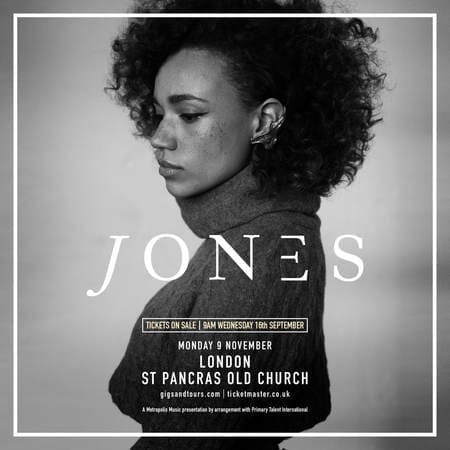 JONES Announces First UK Headline Tour
Following a standout performance at Visions festival and support dates with Gwilym Gold and Royce Wood Jr, JONES announces her first headline show. The velvet voiced Londoner will be perfoming at London's St Pancras Old Church 9th November. Tickets will be available Wednesday 16th September from here.
Raised in east London by her soul-loving mum on Stevie and Luther, at an early age Cherie aka JONES began to turn her most private diary entries into songs, and her small shows for family members became tentative open mic sessions.
Over the past couple of years, she's been gradually letting others into the world she's created; namely, XL's resident producer Rodaidh McDonald and newcomers Brunelle (on Deep), multi-faceted Ninja Tune artist Raffertie (on Indulge), and alt-pop mastermind (and brother of Jai) A. K. Paul (on You). Together with these collaborators she blends polished electronic sounds with raw, organic elements, echoing her modern musical loves, Little Dragon and Lykke Li.
While on the surface these songs all have a soft romantic touch, JONES writes about love and life from the perspective of a tough-skinned outsider. 'Indulge' is the most ecstatic love song from the bunch, but between the subdued guitar licks and catchy chorus lies a sharp-edged message about the tricky power (im)balances of love: 
"I'm in danger, but I savour the thrill of you." JONES' lyrics, dig beneath melancholia and insecurity to unearth beauty in the small victories of self-discovery. News on new material coming soon.