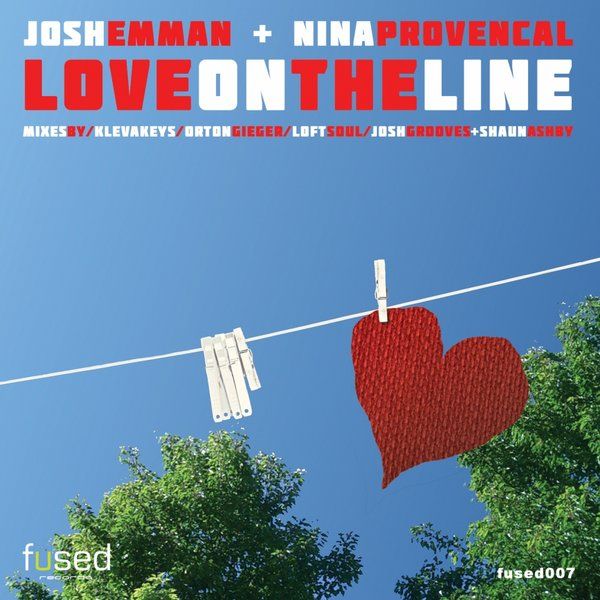 JOSH EMMAN, NINA PROVENCAL – LOVE ON THE LINE
Love on the Line is the latest release from the studio of talented UK producer Josh Emman. Josh has a long pedigree in the music world, belonging to a family of performers and musicians. His father was a regular performer on the Midlands reggae scene in the 80's and 90's and his uncles are lovers of many genres including Soul, Disco, Jazz, Rare Groove, Motown, Two-Tone, 80's Soul, Electro and Rave. Josh has performed as a DJ worldwide and has studied Music Technology and Sound Engineering at college. He made several guest appearances as a DJ/presenter on a national radio station and has since presented on various pirate radio stations. His impressive CV includes international gigs as well as a residency at Brixton's Babalou, and playing sets at Turnmills, Ministry of Sound, Bournemouth's Opera House, and The End.
Josh is a producer who doesn't stand still, he believes that quality is achieved by constantly adapting and always aiming for the top. He strives for excellence and has produced a signature soulful sound which is the key to many of his productions.
Nina Provencal is a talented UK singer who grew up listening to the likes of George Benson and Anita Baker on the radio. She has a talent for writing real and gritty lyrics, not shying away from confrontational subjects. Her collaborations include Solution Soul, Jihad Muhammad and Deep City Central, and her raw emotive style and honey toned vocals have brought her to the attention of the music lovers everywhere.
Established in 2010, the Fused Records label is all about quality dance music, and 'Love on the Line' is their seventh release.
The lyrics of Love on the Line relate to a love relationship where one partner's commitment is in doubt, and the feelings of uncertainty and insecurity are brought to the fore. Nina's vocals draw the listener in with passion and emotion, her delivery effectively expressing the bittersweet sentiments of the song.
This notable package includes 6 mixes plus an instrumental.
Josh Emman's original mix is a potential club classic with its lively House beat, luscious smooth keys and chilled vibe, a perfect backdrop for Nina's impassioned vocals.
The Klevakeys remix features an intense beat with warm keys, and a deep sensibility while the Loftsoul remix has a gentle afro vibe, with rhythmic percussion that will have the listener moving from the start.
The Orton Geiger remix will please the electro lovers with its heavy bass, layered synth, and extra-terrestrial feel. Josh Grooves Club Mix is moody, with muted keys and a deep hypnotic ethereal vibe that will enchant the audience while the SA Solution Club Mix is another flavour of chilled out House featuring warm keys, woodwind and afro drum touches making it a dance floor winner.
The tracks on this release all have their individual subtleties that make them quite different, and yet the whole package is a beautifully constructed meeting of minds that treats the listener to seven quality pieces of music, soulful heartfelt lyrics, and a burning incentive to dance.
Fused007 'Love on the Line' out on promo now on Traxsource and in all good download stores from 29 September 2014
http://www.traxsource.com/title/362997/love-on-the-line
© Sue McDonald 2014. Unauthorized use and/or duplication of this material without express and written permission from the author and/or owner is strictly prohibited. Excerpts and links may be used, provided that full and clear credit is given to Sue McDonald with appropriate and specific direction to the original content.