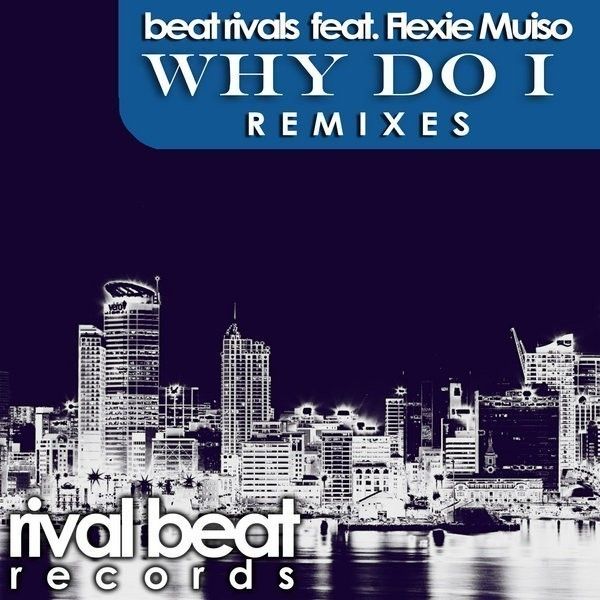 BEAT RIVALS ft FLEXIE MUISO – WHY DO I
Why Do I is the latest remix package from the Rival Beat label.
London based Beat Rivals are KrazyK and Soulshy, are a hard working production duo, currently releasing a variety of quality creative dance music productions. They have many years experience in the music industry, having refined their skills under the mentorship of Karl "TuffEnuff" Brown. With recent acclaimed releases including a mega remix package of '(Gotta Be) Free' featuring Lifford, and 'Reach Out' featuring Tony Lindsay, the Beat Rivals are the name on everybody's lips in the House music arena. Each release consists of a collaborative mix as well as at least one individual interpretation from each of them, and this original approach to their work results in a diverse palette of sounds which both contrast and complement each other. The friendly competition between them resulted in the name Beat Rivals, which neatly sums up their methodology.
Originally from Nigeria, Flexie Muiso has lived in the UK since the age of 9. In the 90's his passion for music led him to be an MC on the garage club scene where he wowed the crowds, and he discovered his singing talent while studying for a degree in Popular Music Performance. A talented songwriter, he has performed and cowritten many dance tracks including the Drum and Bass number one hit 'Your Love' with Original Sin. He has supported Ne-Yo and Dbanj, and performed on stage with The Roots and Kool and the Gang. Flexie has also coached the cast of Made in Chelsea and he is a mentor for young people, helping them to find a positive outlet through music.
The lyrics of "Why Do I" are about the confusion and pain of a dysfunctional relationship, which Flexie delivers with a convincing heart wrenching passion as he takes on the role of a man in emotional turmoil.
This package consists of 6 mixes including a guest mix from Karl 'Tuff Enuff' Brown.
Beat Rivals Classic Groove mix is the collaborative mix with beautiful keys, enticing percussion, understated strings and a classic house beat. It has a very sweet and soulful vibe that will appeal to soulful house fans everywhere.
The Soulshy Vibe combines drum rolls and organ stabs with brass elements to bring yet another soulful dance flavour to the mix while the Krazy K Vibe is a traditional four to the floor beat with classy piano and a retro 80's feel.
The Lose my Mind Dub has a techno edge while in contrast the Soulshy retouched Original is smooth, jazzy and soulful. Karl Brown's Funky Sensation reconstruction brings yet another facet with its hypnotic broken beat flavour, highlighting smooth organ and captivating strings.
"Why Do I" from Rival Beat Records, available on 22 September 2014 exclusively from Traxsource, then available on 6 October 2014 from iTunes and all other good download stores.
http://www.traxsource.com/title/364438/why-do-i
By Sue McDonald (Twitter: @SueVMcDonald; Blog: http://casaprofunda.wordpress.com/)
© Sue McDonald 2014. Unauthorized use and/or duplication of this material without express and written permission from the author and/or owner is strictly prohibited. Excerpts and links may be used, provided that full and clear credit is given to Sue McDonald with appropriate and specific direction to the original content.