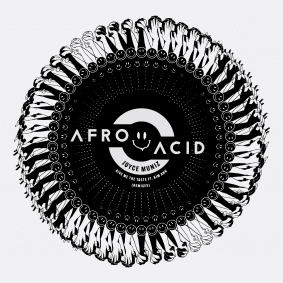 Joyce Muniz – Give Me The Taste
DJ Pierre's seminal Afro Acid welcomes a host of contemporary talents to remix Joyce Muniz including Oliver Dollar & Stefan Braatz, Alinka, Lauren Flax and Hannah Holland. The original single landed earlier this year and did plenty of damage around the world.
It is the German pairing of Oliver Dollar & Stefan Braatz who go first. The former is a master of sample heavy house with real heart, and often collaborates with Braatz. Here they offer a prickly version with chattery Chicago claps and bouncing drums and bass that will energise any set in style. Chicago native Alinka is next and is known for her weird and idiosyncratic take on house on labels like Crosstown, Classic and her own Twirl. She imbues her music with the spirit and history of the Windy City and here layers in acid flashes and machine gun like lasers that make for a brilliantly dark and involving groove.
Lauren Flax comes from Detroit by way of Brooklyn and has worked with the likes of Little Boots and Tricky, DJed at Panorama Bar and released her jack tracks on cult labels like Unknown to the Unknown. Here she fantastically builds the pressure with gliding hi hats that get under your skin as the fat bass props up the libidinous and seductive vocals and acid twitches. Last of all, UK sensation Hannah Holland is a queen of bass heavy sounds and brings that to her remix, which is a slick and kinetic track of prickly drums, acid stabs and freaky synth work.
This is a powerful package of fresh and forward looking house music.
Tracklist:
A1. Joyce Muniz – Give Me the Taste ft Kim Anh (Oliver Dollar & Stefan Braatz Remix)
A2. Joyce Muniz – Give Me the Taste ft Kim Anh (Alinka Remix)
B1. Joyce Muniz – Give Me the Taste ft Kim Anh (Lauren Flax Remix)
B2. Joyce Muniz – Give Me the Taste ft Kim Anh (Hannah Holland Remix)