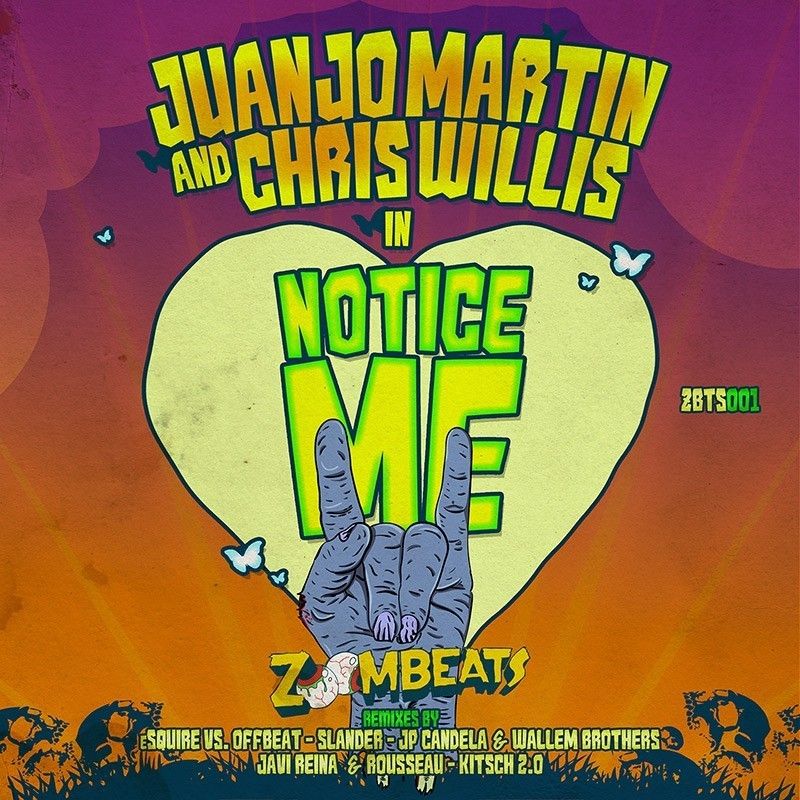 Juanjo Martin & Chris Willis Release – Notice Me
Juanjo Martin and vocal powerhouse Chris Willis join forces this month to present the feel good anthem 'Notice Me' which lands this month on the newly conceived Zoombeats imprint. Following much speculation of the arrival date, the team behind the release satisfied their followers' demand by announcing the imminent arrival of the release, which is already picking up a lightening pace across the EDM community. Packed with addictive melodies, vocal lines and a fiery bass, 'Notice Me' is all the evidence you need to back Juanjo's glowing reputation both in his native Spain and across the dance music world. As a favourite at the pivotal world's largest nightclub Privilege Ibiza, Juanjo is finely placed to see what's happening in the world of electronic music, making him a potent force in the studio. Paired with the vocal talents of Chris Willis, who you will remember for his beautifully infectious choruses on the likes of David Guetta's 'Love is Gone', 'Just A Little More' and 'Gettin' Over You'.
A fusion of one of Europe's most respected production authorities in clubland and one of the world's standout dance music vocalists will always be a reliable source for great music and 'Notice Me' is no exception. With the release already seeing international support flying in from the likes of Peter Luts, Jesse Garcia, Albert Neve and Frank Caro – the future is looking bright for what's promising to be an exciting label rammed with talent.
Backed with a huge remix package featuring a plethora of talent including eSQUIRE vs OFFBeat, Slander, KitSch 2.0, Javi Reina & Rousseau and a special offering from JP Candela, who teamed up with Wallem Brothers to round off a fantastic bundle that offers something for everyone.
Zoombeats have landed with authority this month and look set to take the world on from the get-go. Few labels can draw on such a complete line-up of talent for a launch release, but label bosses Juanjo Martin, JP Candela, Javi Reina and the label team have wasted no time announcing themselves on an international scale.
'Notice Me' is available now at Beatport:
http://www.beatport.com/release/notice-me/1160805
You can hear the original along with all five of the remixes on offer over at Zoombeats' Soundcloud:
https://soundcloud.com/zoombeatslabel/sets/zbts-001
You can keep right up to date with the artists and label at:
ZOOMBEATS:
http://zoombeats.com.uk
http://facebook.com/ZoombeatsLabel
http://twitter.com/ZoombeatsLabel
http://soundcloud.com/zoombeatslabel
http://youtube.com/zoombeatslabel
JUANJO MARTIN:
http://juanjomartin.com
http://facebook.com/juanjomartinmusic
http://twitter.com/juanjomartin
http://soundcloud.com/juanjomartin
http://youtube.com/juanjomartinTV
CHRIS WILLIS:
http://chriswillismusic.com
http://twitter.com/chriswillistwit
http://facebook.com/chriswillismusic
http://youtube.com/chriswillismusic