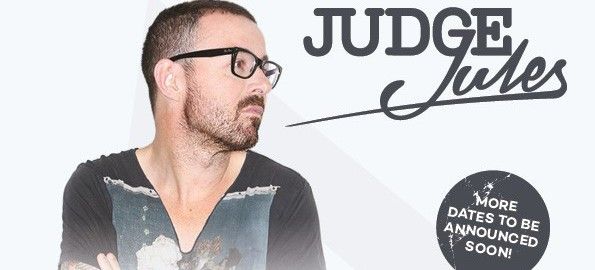 Judge Won't Budge as he hits the road on Global Tour
Judge Jules has been a pioneer of the electronic music scene since day one, establishing himself as a master behind the decks, a ruler of the airwaves and a legend on the White Isle for almost 30 incredible years. With his every move, mix and melody influencing each generation of clubbers to grace the dancefloor, Judge Jules is kicking off 2015 by making sure everyone knows that this Judge Won't Budge.

A colossal rebrand with a slick new logo and website, and a fine-tuned future sound would normally be all the evidence needed to prove that he's back for good, but this is a universal evolution and it's about time we rise once more for Judge Jules…
Embarking on a 12 date tour taking in towns and cities across the world, Judge Jules is about to prove exactly why he's been an industry leader for three decades. Not only seeking to strike a chord with his loyal fans, the Judge Won't Budge tour is all about introducing himself to the new generation of dance music lovers. His aim is simple: "Sometimes you need to stand up and say "yes I'm here, if you haven't heard what I'm about, here's what I do."

And with that mission in mind, he prepares to hit some of the biggest clubs with exclusive plays of his new material at clubs in Northern Ireland, Glasgow, Estonia, London, Birmingham, Sheffield, Ireland, Southport, Newquay, Spalding and Southampton with more international dates still to be added.
Phases come and go, genres are born and laid to rest in the blink of an eye, but one thing is for certain… Judge Jules is here to stay and he knows how to rock a crowd.
31/01
Oldersfleet, Larne (NI)
14/02
The Arches, Glasgow
20/02
Club Prive, Estonia
28/02
The Piccadilly Institute, London
07/03
Cream @ Rainbow Warehouse, Birmingham
14/03
Plug, Sheffield
16/03
The Palace, Tullamore, Ireland
28/03
Tidy Weekender, Pontins, Southport
05/04
Sailors, Newquay
18/04
Loaded, Spalding
25/04
SG1, Fermoy, Ireland
02/05
Soundclash Festival, Southampton
For more:
http://www.judgejules.net/
https://www.facebook.com/judgejules
https://twitter.com/RealJudgeJules
https://soundcloud.com/judge-jules-1