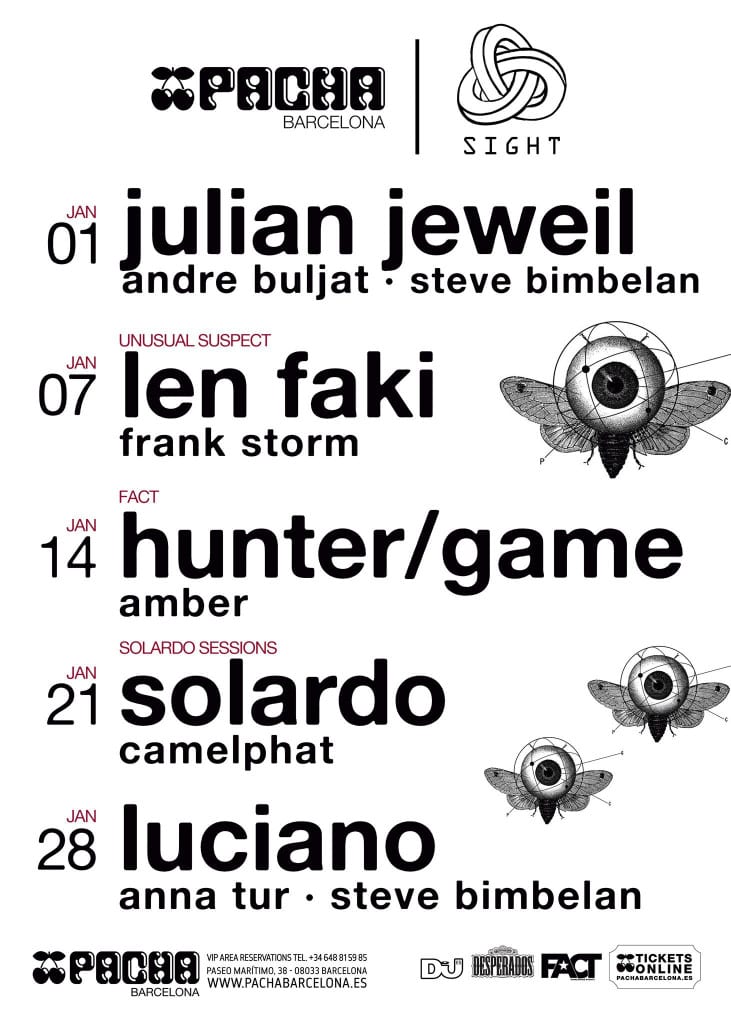 Julian Jeweil kicks off Sight's New Year
During 2017, Sundays at Pachá Barcelona have been synonymous of the best electronic music thanks to Sight and its monthly schedules, a theme that according to the session´s line-up announced for January will repeat over 2018.
The New Year event on Monday 1st of January will be in the hands of the French DJ and producer Julian Jeweil whose productions have conquered the best labels such as Skyptom Records, Craft Music, Figure, Plus 8 and Bedrock. He will be accompanied by Andre Buljat and Steve Bimbelan, both indispensable artists of Sight. On Sunday 7th of January Sight returns with the renowned event form Ibiza, Unusual Suspect with Len Faki, German artist and resident of Berghain, owner of the labels Monoid, Feis and Len Series and Figure, Ostgut Ton, Podium and Good Life regular. Frank Storm completes the line-up. A week later it will be Hunter/Game´s turn, the Italian duo formed by Emmanuele Nicosia and Martino Bertola, founder of Just This parties and owner of a Techno with Pop and Groove influences that is full of sensuality. Amber will be there too. The penultimate date of the month will be responsability of another duo, the English Solardo, formed by Mark Richards and James Eliot, whose energetic and forceful productions have found a place in Mad Tech, Viva, Of Unsound Mind, Roush, Kaluki, Lost, Mta, Snatch and Clarisse!, who will be accompanied by Camelphat. And lastly, on Sunday 28th of January it will be the turn of the Chilean settled in SwitzerlandLuciano, creator and promoter of Microhouse with a unique style full of hints and experimentation. Mental Groove, Transmat, Perlon and Lo-Fi Stereo are just some of the labels that have released his work. Anna Tur and Steve Bimbelan close January´s line-up with him.
A new month, a new year but always the best electronic music thanks to Sight at Pachá Barcelona.