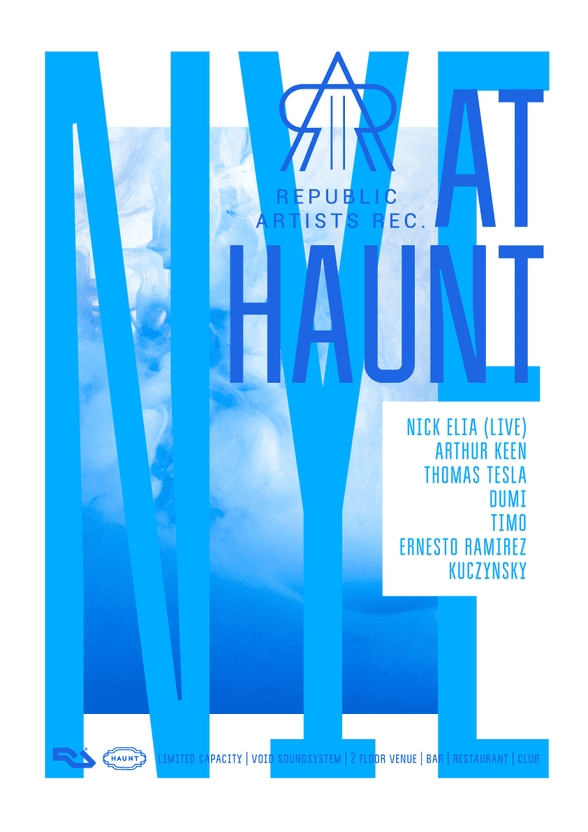 Republic Artists NYE at HAUNT London
Republic Artists NYE at Haunt, 182 Stoke Newington Rd, London N16 7UY
Tickets and Info: https://www.residentadvisor.net/events/1034394
£15 sold out / £20 on sale
———————————
Nick Elia live / Arthur Keen / Thomas Tesla / Dumi / Kuczynsky / Ernesto Ramirez / Timo
Haunt two-storey venue with bar-restaurant on the ground floor and Void soundsystemequipped club at the basement will host Republic Artists for the last dance of 2017. For the night of underground house and techno music we invited long time Republic Artists residents and friends with Nick Elia, Arthur Keen and Thomas Tesla heading up proceedings. Our NYE playground is located in the heart of West-Hackney, between the thriving nightlife areas of Dalston and Stoke Newington. Hope you will like it 😉
Nick Elia has released cuts on labels such as Republic Artists Records, Sheik 'N' Beik, Leading Astray, AMMuzik Records, Onism and Wasabi Generals. Nick's productions have been supported by Tiga, Colin Dale and Dubspeeka among others, as well as been remixed by Pol_On, Kozber, Oli_N and Elek-Fun. His critically acclaimed record 'Glue' was featured onBBC Radio 1 and Proton. Nick was an Audio Lecturer at SAE Institute and had delivered master-classes at the University of Surrey and Keele University before he moved full time to his solo studio projects. Nick performs live using Roland, Korg and Novation machines.
In 2006, Thomas Tesla started small events in Camden Town and Old Street which resulted in launching Republic Artists night at club Factory Vauxhall and record label 7 years later. Born in Prague, but artistically grown up in London he got a chance to dj at now defunct venues including Cross, Canvas and Key and during past 10 years at many major clubs in capital. Other gigs include trips to Czech Republic to his residency club Chapeau Rouge Prague, Poland, Spain (Amnesia), Austria, South Africa and most recently Germany where he performed in Berlin's Tresor, Magdalena, Suicide Circus and Golden Gate. On the night expect 4/4 underground house and techno however Thomas has been seen to play boggie-disco and clasic jazz set too on a few occasions 😉 .
Arthur Keen, will be showcasing a more minimal and dark site of the genre. The mixture of deep underground grooves from Techno, Electronica and Tech House with melodic blends will surely suit the later hours of the night. His track'The Door' released on Republic Artists Records has been supported and played by Laurent Garnier, Sacha, Betoko, Benoit, Technasia and Chris Fortier.
Since its inception in 2007, London-based collective Republic Artists has always had its focus on championing underground house and techno music through its resident DJs and selected guests, hosting regular events in the UK, Ibiza and Czech Republic among others. Following a long standing and popular fixture in London's nightlife, in 2014, Republic Artists Records was launched.