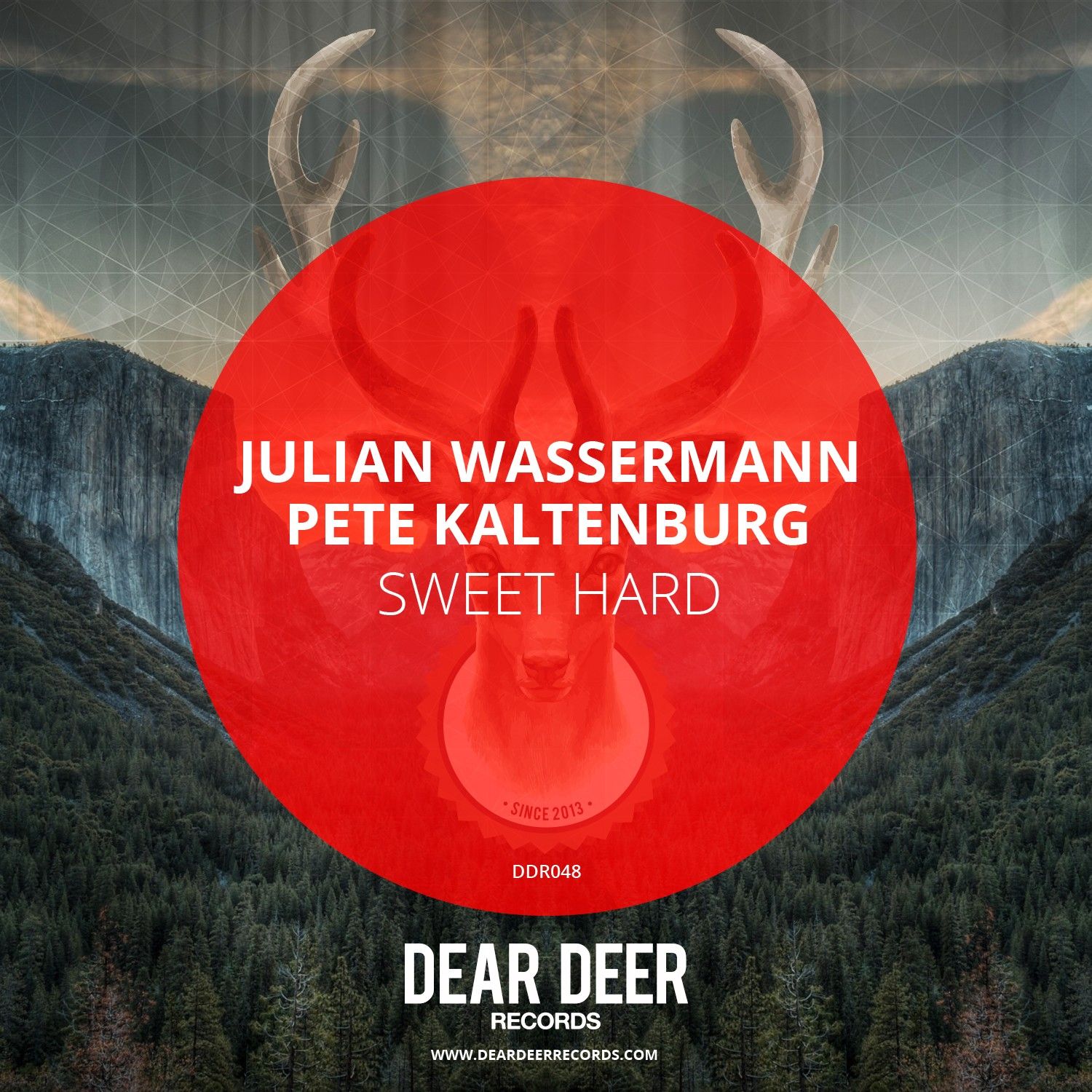 Julian Wasserman & Pete Kaltenburg – Sweet Hard
A collaborative effort between in-demand German DJs and Producers Julian Wasserman and Pete Kaltenburg, 'Sweet Hard' has now hit the shelves and is quickly climbing the Indie Dance/Nu Disco ranks. A three-track collective, this project is already featuring at #38 on Beatport's 'Indie Dance/Nu Disco Top 100' chart with its same-titled lead single and is mounting up support from heavyweight DJs such as: Jaques Le Noir, Danny Howard, Mauro B, Vanilla Ace, Kinree, Vijay, Richie Hawtin, Paco Osuna, Jean Bacarreza, Robert Owens, Rick Maia, Joseph Capriati, Tosel & Hale, Stage Rockers, VooDooSon and Deepjack amongst many others. Considering the immense talent of the duo behind this production, such success comes as no surprise.
Munich based Julian Wasserman is a seasoned producer with over 50 releases to his name, signed to top labels like: Toolroom, Moodmusic, PopArt, Erase, Subinstinct Records, Sleazy Deep, Dear Deer and King Street Sounds to name a few. His Techno, House and Disco inspired sound has piled up the support of renowned names such as: Joyce Muniz, Daniel Bortz, Tensnake, Laurent Garnier, Martin Landsky, Whebba, The Mekanism, Betoko, Kruse & Nurberg, Marco Carola and Hernan Cattaneo. Apart from his skills in the studio, Julian Wasserman is also a prominent name on the DJ scene, holding residencies all over his home town and playing alongside big names, namely: SonneMond Sterne, Rave on Snow, Utopia Island, Harry Klein and KONG.
Joining up with Julian Wasserman is another renowned name on the German club circuit. A resident at FABRIK, Bayreuth and MorphClub, Pete Kaltenburg is a perfect addition on this project. He's been behind the decks with A-list artists such as: Sidney Charles, David Pher, Patrick Kunkel, Johanna Knutson, Rafael Kakudo, Yooj, M.in, Channel X and more. The Bayreuth native is also a wizard when it comes to production and he's landed deals with esteemed labels like: Subinstinct Records, Fluaschig Records and Weplayminimal amongst others. Recognised for his mad musical abilities, Pete Kaltenburg has gained the support of prime DJs such as: Paco Osuna, Tocadisco, Animal Trainer, DJ Sam Divine, Vanilla Ace, Acid Pauli, Jay West, Beatamines, Channel X, Chasing Kurt, Daniel Bortz and Patrick Kunkel. His Deep House, Tech House and House blend represents the ideal combination to Julian Wasserman's unique style.
Commencing with the powerful, much hyped single 'Sweet Hard', the EP is certainly off to an excellent start. The filtered drum beat in the introduction quickly transforms itself into a deep groove that serves as a driver for this track. The subby bass-lines add immense colour to the lower end of the frequency range, making way for an even deeper layer within the next section. The vocals start introducing melodic elements in the production, which is then further supported by the infectious, dreamy synth loop. The filtered male vocals take centre stage with intricate harmonies, whilst the music takes a minimalistic stance before bursting into an energy-filled chorus. The duo devises a series of a back-and-forth response style sections between the hard instrumental parts and the harmonious vocal-led sections which serve not only to make the single more original but also has a role in dynamic control. The musical mastery behind this track gives all the reasons for its quick rise in the charts and the multiple support it achieved.
Up next is another Indie Dance/Nu Disco hit by the name of 'In Love'. Another deep kick showcase, this track takes over with a House inspired drum beat and left field effects that then transpire into memorable, rumbling bass-lines. Snippets of male vocals intensify the first few seconds of 'In Love' before getting prominence when accompanied by the pitch-shifted, funky synth arrangement. The intense chorus is totally halted with a huge breakdown, which slowly builds up with the aid of pitch-shifted grooves and melodies before unleashing into a punchy, colossally deep drop which shakes the speakers for a few seconds. Julian Wasserman and Pete Kaltenburg go back to their catchy Deep House influenced main theme which they carry on till the end, adding spice to it with multiple variations. Impressive for it's skilfully planned elements and accurately controlled dynamics, 'In Love' adds an exciting compliment to the lead single.
The last production on this EP is the last proof of how much effort and hard work has been put it this project. 'Just A Dream' has already made its way on Pete Tong's BBC Radio1 show, when played by David Howard. Phasing effects and a high-pitched drum rhythm lead unfold the deep surprise that is to follow. Once again the duo manages to provide a thunderous bass-line and a smooth groove. Relying again on vocals for melodic flavours, this track is full of exciting elements such as the popping synth loop and phasing basses in the background. The duo shows their deep understanding of dynamics with their consistent management of song sectioning to alter the mood of the tune. The numerous variation they make to each and every element within the production is an extraordinary display of the attention to detail they had when producing this magical track, offering a remarkable closing to the EP.
Ukrainian giant Dear Deer is the imprint who has put the signature on this record. The brainchild of Alex Kaspersky and Svatoslav Tvardovsky, Deer Dear is all about reinstating profoundness into music and moving away from formulaic productions. Specialising in Deep House and Nu-Disco the Kiev based label is establishing itself as a frequent name on Beatport's 'Top 100' in various categories and is enjoying increasing support since its beginnings in 2013. Julian Wasserman and Pete Kaltenburg have made their way into Deer Dear's talent pool amongst names such as: Brodance, Mark E, Kolombo, Benedetto & Farna, KANT, Vanilla Ace, Patrick Podage, Re Dupre, Nikitin, Jonas Woolf and Chocolate Avenue to name a few. Continuously gaining chart positions, Julian Wasserman and Pete Kaltenburg are surely on the right track to carry on 'Sweet Hard''s pursuit for the very top spot.