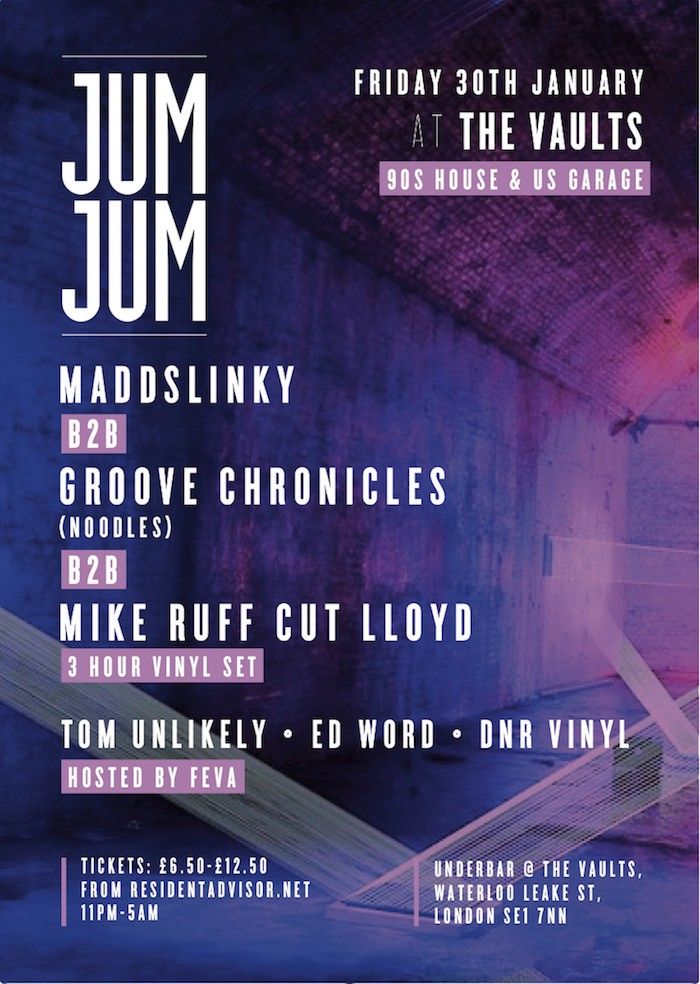 Jum Jum
Line-up /
Maddslinky AKA Zed Bias
B2B
Groove Chronicles (Noodles)
B2B
Mike Ruff Cut Lloyd
(3 Hour Vinyl Set)
Support From:
Tom Unlikely (Rye Wax)
Ed Word (Boogie Nights)
DNR (DNR Vinyl)
Club Jum Jum invites you to explore the musical roots of UK Dance culture.
Quality of music is the primary focus and everything else follows suit. Playing strictly vinyl, Jum Jum will bring you sounds from deep within the crates of some of the UK's most renowned collectors.
On Friday 30th January Club Jum Jum are bringing you something quite special. A rare back to back performance from 3 of the UKs most renowned underground DJs playing for 3 hours on vinyl, at one of London's most exciting venues.
For this unique edition as an after-party for the distinguished Vault Festival, we have put together an equally unique line up to match. Topping the bill will be Tru Thoughts and Swamp 81 label regular Maddsklinky aka Zed Bias. Cited as one of the pioneers of the UKG scene in the late 90s, Maddslinky first hit the charts with his seminal underground anthem 'Neighbourhood' as Zed Bias and has been leading a blazing trail ever since working with the likes of Mr Scruff, Skream & Loefah to name a few.
Going back to back with Maddslinky as part of this exclusive vinyl showcase will be Jum Jum resident and founder Groove Chronicles aka Noodles, founder of the legendary DPR label and the man behind ground-breaking tracks such as 'Stone Cold' and 'Black Puppet'. A true DJs DJ, Noodles is famed for his extensive record collection and ability to seamlessly blend genre's within his DJ sets, making him one of the most in demand vinyl DJ the UK has to offer.
The final addition to this back-to-back spectacular will be Mike Ruff Cut Lloyd. Mike is renowned for his storming upfront sets and flair for acknowledging what a crowd wants. Mike provides an element of cutting up and scratching to his sets that makes him stand out from the crowd and the perfect way to round off this 3-hour vinyl set.
Support comes in the form of Rye Wax founder Tom Unlikely, Boogie Nights very own Ed Word and DNR DJs. All local crate diggers who certainly know there way round a massive tune.