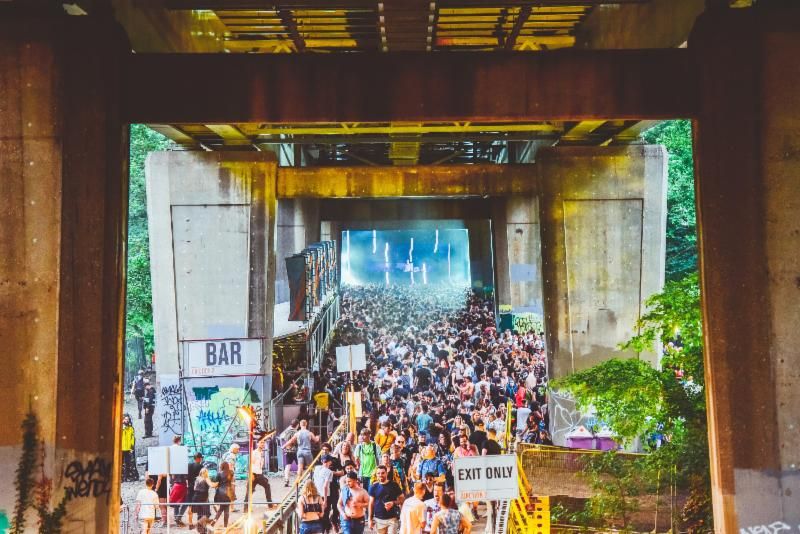 Junction 2 – B2B Sets, Stage Splits And Hosts Announced
Between Objekt's fragmented assault on club music, Daniel Avery's glitchy IDM and the sheer power ofDJ Stingray, a new intensity awaits within The Warehouse on Friday. This is the place to be for piledriver sets and unconventional selections with Saturday following a similar track. Berghain favourite Etapp Kylemay be young but is held in high esteem for his relentless techno, whereas the internationally renownedDax J makes his Junction 2 debut alongside a figure leading the charge of modern electronic music,Amelie Lens.
For those that stumble upon a blissful clearing in the trees, you're in for a treat. An astonishing Call Super B2B Shanti Celeste set leads FACT's takeover of The Woods on Friday, while Ben UFO's exploration of deep grooves and rattling bass will no doubt prove to be one of the festival's highlights. One of Europe's most respected promoters and record labels, VBX, hosts The Woods with an equally phenomenal bill on Saturday. After a rapturous reception last year, Sonja Moonear and Nicolas Lutz return for another thrilling B2B, with Amsterdam wild man San Proper and the totemic Craig Richards' second set of the weekend ensuring Junction 2 reflects the depth, taste and passion shared by selectors, partners and guests alike.
Friday tickets priced £49.50 +BF, Saturday at £57.50 +BF and weekend at £100 +BF are all running very low. Secure tickets at these prices by heading to:
www.junction2.london/tickets

JUNCTION 2 FESTIVAL FULL LINEUP – IN ORDER OF APPEARANCE

FRIDAY:

MAIN STAGE
BICEP
DAPHNI
GILLES PETERSON
MR. G
FORT ROMEAU

THE BRIDGE – HOSTED BY FABRIC XX
RICARDO VILLALOBOS
CRAIG RICHARDS
DIXON
DJ KOZE
JOB JOBSE
S_AS

THE STRETCH – HOSTED BY PHONICA RECORDS
HUNEE
MOTOR CITY DRUM ENSEMBLE
JEREMY UNDERGROUND
CARISTA
PEACH

THE WAREHOUSE – IN ASSOCIATION WITH RELENTLESS
DANIEL AVERY
OBJEKT
DJ STINGRAY
UMFANG B2B VOLVOX
BATU

THE WOODS – HOSTED BY FACT
BEN UFO
CALL SUPER B2B SHANTI CELESTE
RROXYMORE
RE:NI

SATURDAY:

MAIN STAGE
MACEO PLEX B2B TALE OF US
MAX COOPER
VAAL

THE BRIDGE – HOSTED BY DRUMCODE
ADAM BEYER
RICHIE HAWTIN
JOSEPH CAPRIATI
IDA ENGBERG
BART SKILS

THE STRETCH – HOSTED BY SONUS IN ASSOCIATION WITH DJ MAG
LOCO DICE
APOLLONIA
TINI
LAUREN LO SUNG
GENE ON EARTH

THE WAREHOUSE – IN ASSOCIATION WITH RELENTLESS
AMELIE LENS
DAX J
ETAPP KYLE
IMOGEN

THE WOODS – HOSTED BY VBX
SONJA MOONEAR B2B NICOLAS LUTZ
CRAIG RICHARDS
SAN PROPER
VOIGTMANN