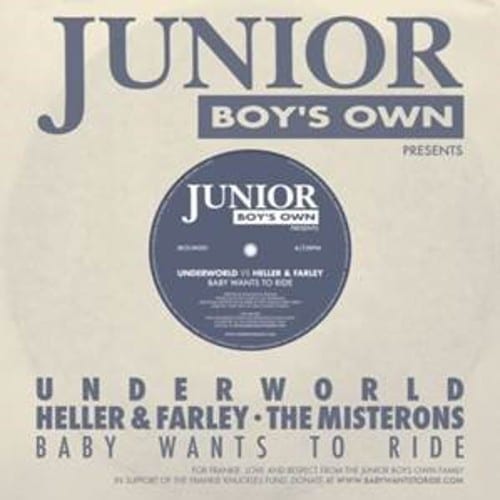 Junior Boys Own to release a tribute to Frankie Knuckles
In celebration of Knuckles' life and music, two of the label's cornerstone acts – Underworld and Heller & Farley – have joined forces for the first time to record a version of the Chicago classic "Baby Wants To Ride".
"Baby Wants To Ride" will be released digitally and on limited edition 12" vinyl by Junior Boys Own/Caroline International. All proceeds of the record will go to the Frankie Knuckles Fund (part of the Elton John AIDS Foundation).
On the continued influence of Frankie Knuckles:
'My relationship with Frankie goes back a long way. Twenty-five years ago, Frankie championed the early music Pete Heller and I made and many of the first releases on Junior Boys Own. He helped turn a group of suburban London music fans into DJs and producers who could travel the world, simply by his patronage.' Terry Farley
'As the creator of house music we owe Frankie a huge debt. Karl and I have always seen Frankie as the source and, as Underworld, we're always swimming in his river.' Rick Smith (Underworld)
'When difficult decisions had to be made at the label, I'd often ask myself, "What would Frankie do?' This meant we should approach the problem with love and respect for the music as our first concern." Steven Hall (Junior Boys Own)
"It's fabulous. I have always LOVED Underworld. This is a great track and tribute to Frankie. Thanks to everyone involved from me and everyone
at the Elton John AIDS Foundation." Sir Elton John (Elton John AIDS Foundation)
Iconic dance label Junior Boy's Own is one of the most consistently successful UK dance labels. They have previously released records by – among many others – the Chemical Brothers, X-Press 2, the Ballistic Brothers and Black Science Orchestra. Underworld and Farley & Heller were among the first acts signed to the label in the early '90s.
The Frankie Knuckles Fund was established by Defmix and the Elton John AIDS Foundation in Knuckles' memory, following his passing on 31st March 2014. The fund receives donations for the charity's work with men at high risk of HIV in Africa as well as African communities in the UK, and African American communities in the U.S.A.
The digital and 12" releases will be available to buy or pre-order from 13.00 GMT 12th February 2015 at www.babywantstoride.com. By ordering direct, you ensure that the proceeds go direct to the charity, without any retailer margin deductions. The limited edition of 1,000 vinyl 12"s and the digital bundle are available at babywantstoride.com as "Pay What You Want" (subject to a minimum of £12 plus shipping for the vinyl and £3 for the digital bundle).
The "Baby Wants To Ride" release has been supported by a team all of whom have given their time and services for free, including: 9PR, Abbey Road Mastering, Beatink Inc., Caroline International, Hub II Studio, Magnum PR, Mark James Works, Townsend Music, Turner Hall, Viaduct Promotions, Vinyl Factory and Your Army.
www.babywantstoride.com
Frankie Knuckles Fund for the Elton John AIDS Foundation
If you'd like to donate to the Frankie Knuckles Fund for the Elton John AIDS Foundation's HIV programs serving African communities around the globe, please visit: http://www.ejaf.org/london/campaigns/frankie-knuckles-fund/