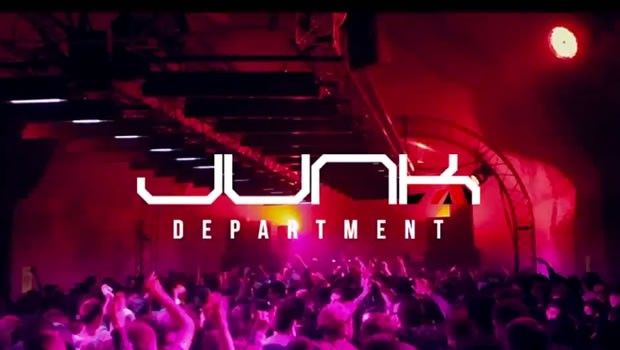 Junk Department Goes East – Friday 18th April 2014
On Friday 18th April, revered music institution Watergate will host award-winning UK underground powerhouse Junk Department at their iconic Berlin venue. The international programme of house and techno talent comes in the form of Visionquest first lady Laura Jones and Ireland's finest Gavin Herlihy along with respected Junk Department residents Luca Pilato and Rhymos. This will be the second part of a sonic foreign exchange that will also see Junk Department host a line-up of Watergate's finest at an East London warehouse on Saturday 8th March 2014.
Returning for her first Watergate appearance since 2012, Laura Jones has been steadily rising through the ranks of house and techno elite for the past 5 years. From a background as a classically trained musician, she exploded on the scene with her 2011 release on Matt Tolfrey's Leftroom, 'Love In Me', which was polled as No. 5 in Mixmag's 'Big Tunes' as well 'Tune of the Month' in the same issue. Further releases on Leftroom and Visionquest have cemented her reputation with an international touring schedule that has seen her grace the decks at some of electronic music's most prestigious events including BPM Festival, Zoo Project Festival, Eastern Electrics and Richie Hawtin's Enter at Space, Ibiza.
No stranger to Watergate, Gavin Herlihy earned his stripes as a producer during a two-year stint in Berlin. As comfortable writing sublime deep house as he is at crafting no-nonsense techno, he has notched up releases on a catalogue of stand-out labels such as Get Physical, Cocoon, Cadenza, Sunday Best, Crosstown Rebels, Leftroom and Culprit. Having already won respect through previous collaborations with Laura Jones 'Let Me Show You Love' and 'Turn You Out', they team up once more to shake the foundations at the Berlin clubbing hot-spot. Hefty support comes from respected Junk Department Residents Luca Pilato and Rhymos, who have spent the best part of a decade at the helm of their award-winning south coast venue.
Junk Department presents Watergate Worldwide Affairs with Teifschwarz, Lee Curtiss, Reude Hagelstien, Marco Resmann and Metro at an East London Warehouse Location on Saturday March 8th. For full details visit: www.junkdepartment.com
Watch the promo video here: http://bit.ly/JunkxWatergateVid
Junk Department are also giving one lucky person the chance to win a trip to Berlin for two people with flights, accommodation and tickets to Watergate included. Full details are here: http://bit.ly/JunkComp
Name: Junk Department present Watergate Worldwide Affairs
Date: Friday 18th April 2014
Venue: Watergate, Berlin
Line-up: Laura Jones, Gavin Herlihy, Luca Pilato, Rhymos
Tickets:
BERLIN: JunkDepartment.com
LONDON: JunkDepartment.com
£17.50 + BF – Final 50 tickets at this tier
Junk Department info:
Website: www.junkdepartment.com
Facebook: www.facebook.com/JunkClubUK
Twitter: @junkdepartment
Watergate info:
Website: http://www.water-gate.de/
Facebook: www.facebook.com/watergate.club