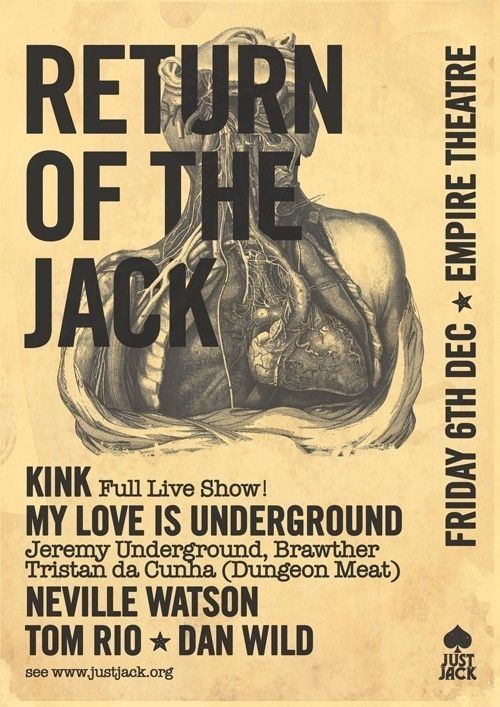 JUST JACK: KINK, NEVILLE WATSON, MY LOVE IS UNDERGROUND & MORE
RETURN OF THE JACK
FRIDAY DEC 6th
EMPIRE THEATRE
——–
The Red Room:
KINK – LIVE
NEVILLE WATSON
TOM RIO
DAN WILD
The Sleaze Pit:
MY LOVE IS UNDERGROUND: BRAWTHER, JEREMY UNDERGROUND, TRISTAN DA CUNHA (ALL NIGHT LONG!)
——–
Ladies and gentlemen, boys and girls: ITS ON…THE JACK IS BACK!
After a few months galavanting around large clubs across Europe and the UK, Colonel Wrongface is proud to make a return to what he loves most: straight up sleazy sweat pits with badboy house music ALL NIGHT LONG. The Colonel has been sniffing around Old Market for a while now and his trusty snout has brought him to the most exciting new space the city has to offer… Empire Theatre. This one's been a while in the making and boy have we got something special lined up for ya!
Laid out across 2 rooms, this intimate den of iniquity is the perfect venue to showcase some of the most important Dj's and live acts of the moment. First up we have a world famous live show created by 2 legends of the scene – KiNK and Neville Watson. Their no nonsense approach to acid house and techno has been slaying clubs around the globe for some time and when we heard whispers of a live collaboration between these 2 many moons ago, we were not sure whether to believe it, but here it is, and you can be part of it! For anyone who hasn't seen Kinks boiler room outing, get it on and watch in disbelief, sh*t is about to get serious!
In the other room comes an all night label showcase from the most hyped, charted and downright badass label of the moment – My Love is Underground. Taking to the decks are label founder Jeremy Underground, house legend Brawther, and his production partner under the Dungeon Meat guise (check out 'The Fuck Off Track') Tristan da Cunha. These purveyors of quality house music know no other way than to tear the back doors off clubs with their straight up house bombs, to say the Colonel is excited would be an understatement!
Time to dust off those dancing shoes once more peeps, the Jack is back…and this time he means business.
Tickets: http://www.residentadvisor.net/event.aspx?534723