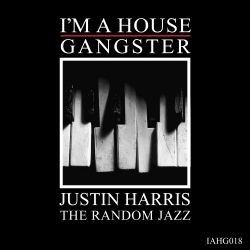 Justin Harris – The Random Jazz EP
'The Random Jazz EP' is the dynamite new release from Music For Freaks maestro, Justin Harris, who makes his swell debut on the I'm A House Gangster label. The fun title track 'Random Jazz' tips it's hat to Big Band Jazz, loaded with a catchy piano hook, brass stabs and vocal samples drizzled over a dope House groove. 'Galaga' is an energetic number with a frantic Space Invader fused key hook that scuttles through a nucleus of bleeps and raw Jackin beats, aimed squarely at the floor! Also on the package Justin includes a tasty dub of 'Random Jazz' and a cool slowed down dub version of'Galaga' for the deeper heads.
"This EP was written especially with Carlos and the IAHG collective in mind…. I'm a fan of Sneak and his sound, always have been and respect what he has done within this industry. I first thought the EP up when I was hanging with him, Mark Farina and Luke Solomon at the IAHG party at Sonar, Barcelona. It's such a buzz that he understood what I was trying to achieve and that it's going to be on the labeL!" – Justin Harris
Justin Harris' illustrious musical career started out with him DJ'ing in warehouses, fields and clubs around the UK in the late 80's. Alongside such luminaries as DIY Sound System, Nigel Casey (House of 909), Mr. C, Eddie Richards, Colin Dale and a host of other legendary DJ's, Justin has definitely played a big part in forging the scene into the global force it is now. Fast forward to 1995 and he formed what would be a 20 year partnership with Luke Solomon. Freaks was born, along with four albums (most recently 'Psych' on Rebirth Records) and well over 100 EP's. Together they've made remixes for artists such as Matthew Herbert, Derrick Carter, Greenskeepers, Tiefschwarz, Dave Aju, and Gene Farris and Sonny Fodera, to name a few, on esteemed labels like Hot Creations, Visionquest, Circus Company, Crosstown Rebels, Leftroom, Playhouse and Silver Network. Justin has also enjoyed a lucrative solo career, Djing all over the world and also releasing EP's and remixes for the likes of Classic Recordings, Viva, Natural Rhythm, Something Different, Paper Recordings, Eclectic Avenue Records (EAR), Seamless, Vizual, Punks and Sculpture Recordings, among many. Also for this year Justin has begun a collaboration with Hanfry Martinez calling themselves House Of Warez. They already have a vinyl EP out on Djebali with more to follow.