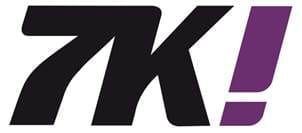 !K7 launches new 'neo-classical' label 7K!
Today !K7 launch a new all-encompassing label/hub for 'neo-classical' projects called 7K!.

7K! is a platform to share the in-house expertise and spirit of the legendary music company based in London, New York and Berlin, offering something quite different…

Having worked with German trio Brandt Brauer Frick over the last six years, !K7 has been an innovative force in the contemporary classical movement since before the genre had a name. In order to build on that experience and to offer the best possible service to artists and signings in this vein – including the internationally renowned Italian string arranger and composer Luca D'Alberto – !K7 has launched 7K!, which will operate as a platform centered around a record label.

7K! will kick off its release schedule in the first quarter of 2017 with the album Endless by multi-instrumentalist and globally-renowned Italian composer Luca D'Alberto.

Endless was produced by Martyn Heyne (who has worked with Nils Frahm, Lubomir Melnyk, Peter Broderick, Tiny Ruins and The National) and Henrik Schwarz. The album is preceded by the tracks Wait For Me and Blessed Messenger, which are released today. You can steam both tracks via Spotify or Wait For Me via Soundcloud and watch the video for Wait for Me video on Nowness.
D'Alberto is a brilliant, mold-breaking musician, who is already highly regarded in the classical/ soundtrack world as a multi-instrumentalist and composer, having received praise from directors including Peter Greenaway, Wim Wenders and Fernando Arrabal.

Speaking on Luca's music and other catalysts of the 7K! launch, company CEO Horst Weidenmüller says:

"What Luca played for us gave us goose bumps. Benedict Rosenkranz and myself looked into our eyes and said to each other 'we have to work with Luca – he's genius'. Everybody within K7! was amazed by his music but no one felt confident to A&R his album. So I ended up listening to days worth of music and became the executive producer for this album – a job I never done before within my company. This new experience opened me up to so much amazing sounds that I decided to dedicate an entire department to this beautiful music.

The reason why we chose to mirror the !K7 brand with 7K! is because this music speaks to the !K7 audience, but it is not '!K7' in the strictest sense.

But 7K! most certainly will mirror the world of !K7 in new classical music as well as in ambient and experimental projects. We want to show our audience that it is the same !K7 dedication and spirit behind the projects, but that it is also something different."

In order to celebrate the beginnings of the new 7K! brand, they have teamed up with Berlin radio station FluxFM who will be launching their new radio channel neoFM. On January 27th neoFM & 7K! present Luca D'Alberto live, complete with a 4-piece ensemble, which will be streamed live by neoFM and broadcasted by FluxFM from Silent Green in Berlin. neoFM is a 24/7 digital radio station focusing on the new classical scene, featuring classical, experimental and soundtrack music. neoFM is part of FluxMusic, and is available on iOS and Android