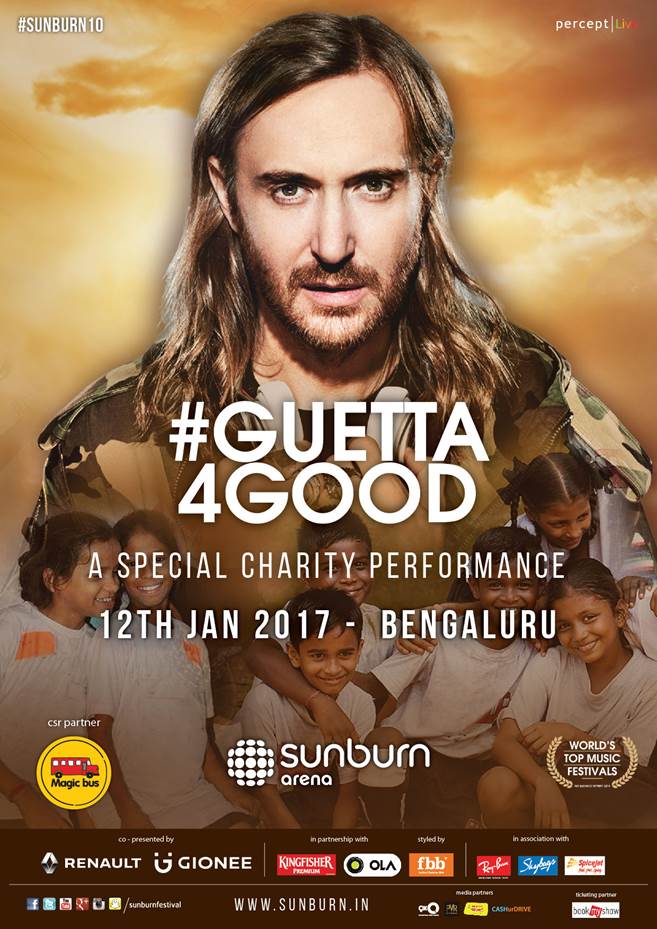 David Guetta gives back to India with #Guetta4Good
He is arguably the world's biggest and most successful DJ of all time. He has played a pivotal role in turning dance music into the chart-topping juggernaut that it is today. He first toured India in 2012, and has subsequently performed to massive crowds all across the country. Now, David Guetta wants to give back to the nation that has given him so much love.
The dance music powerhouse be back in India on a charitable note with the #Guetta4Good show in Bengaluru on 12th January 2017 put together by Sunburn, one of the Biggest Music Festivals in the World. With the philosophy to be seen as ambassador of change, the DJ who shares a special connection with the country will be making a special contribution towards underprivileged children from leading children's non-profit organization, Magic Bus with all the funds raised from the performance being donated to the latter
Through #Guetta4Good, David Guetta is also urging fans to make a social difference. To attend this special performance, fans will purchase donor passes available at nominal rates the proceeds from which will be donated to Magic Bus, to educate even more children.
Commenting on this special performance, David Guetta said, "India is a magical place. The energy that I get from the country and the fans creatively inspires me. Music can change lives."
Karan Singh, CEO Sunburn said, "We are extremely excited to have the iconic David Guetta perform in India for this noble cause and would like to thank him once again for his benevolent gesture. The idea of using music as a medium to raise funds to support our children is one that has connected with the youth of India and am sure we will see an overwhelming response for David's performance come January. We have always believed that music transcends all boundaries and this is a unique way of integrating dance music with the concept of supporting a charity has certainly come of age."
After putting together some of the biggest music concerts for charity in India in the past, this would be the first one for the year 2017.