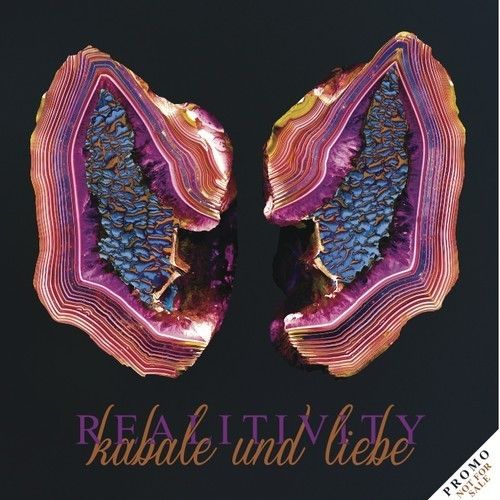 KABALE UND LIEBE – REALITIVITY
'Realitivity' is Kabale und Liebe's debut album, set for release on his Soweso Records label this summer.
As a successful DJ and producer, co-owner of the irrepressible Soweso record label (launched in 2009 with fellow Dutchman, Lauhaus) Liron van Daalen (aka Kabale und Liebe) is constantly striving for the highest level of quality throughout everything he does.
After building up a solid following DJing across the Netherlands, by 2007, just a few years after he had started producing, he released Mumbling Yeah, which was named 'Track Of the Year' by Resident Advisor and established him as a notable producer. Since then his music has emerged on esteemed labels such as Rush Hour, Souvenir, Rejected and Strictly Rhythm.
After various singles and EP releases the next logical step in Kabale und Liebe's career is the release of his debut album 'Realitivity', which heralds a change in direction for the Dutch master. Switching from software-based music programming to exclusively working on hardware has given him a new lease of life, creating a renewed sense of excitement about music and inspiring him to work on the biggest project of his career so far. Realitivity is based on the notion that everybody's reality is relative to their own personal interpretation. In the context of the album, the music on offer is open to interpretation, avoiding genre specifics and representing Liron's diverse personal tastes. The productions are raw and typically groovy, the result of numerous jam sessions in the studio – recorded in one take and run through his analogue mixing desk. Listeners can expect a refreshingly human feel to all of the tracks and a few surprises.
Opening with the gently bubbling and unfurling Intro to Mindmanifest the album then starts in earnest with the funked up techno of The Hunter (taken from the preceding Sammy Hoboken EP) with it's shuffling beat and dappled synths before Dim builds and builds into a solid house groove, inflected with warmth and emotion: a trademark of Liron's production approach.
Bats 'N Butterflies injects an African rhythm into Liron's pulsating house invention – driving us ever closer to the heart of the dancefloor before Lima Sweet Dreams offers a more melancholic, introverted melody that soothes across a sparse staccato beat. Tracks such as Fat'ish' Ass (Twerk Track) highlight Liron's unique take on booty bass – injecting house rhythm's into the rump shaking formula whilst Can I Have S'Amore cranks up the groove for a more driving techno version of the Kabale und Liebe sound. The album's zenith is perhaps reached with the coupling of Sammy Hoboken and Nordlove (Instrumental Version). Two tracks full of swinging Detroit style strings, melody, passion and that all important KuL groove.
Pop Artro shakes things up, providing a short yet totally absorbing abstract interlude before the album gets back in the saddle for the powerful bass intensity of Too Many Circuses, Not Enough Freaks. Finally, Liron once again shows off his maverick studio flair, this time re-wiring old school electrobass with 1535'08 10 and providing us with another facet to his kaleidoscopic production talent.
As Liron himself says, "'Realitivity' is my road to finding a new and fresh sound. A sound for which I found a lot of inspiration in my personal musical history of deejaying and buying records over the last 20 years. The album is just as much 'a journey', as it is 'a destination' from which to move on to the next one, as I look to develop my music whilst not repeating myself."
Tracklist:
1 Intro to Mindmanifest
2 The Hunter
3 Dim
4 Bats 'N Butterflies
5 Lima Sweet Dreams
6 Fat'ish' Ass (Twerk Track)
7 Can I Have S'Amore
8 Sammy Hoboken
9 Nordlove (Instrumental Version)
10 Pop Artro
11 Too Many Circuses, Not Enough Freaks
12 1535'08 10