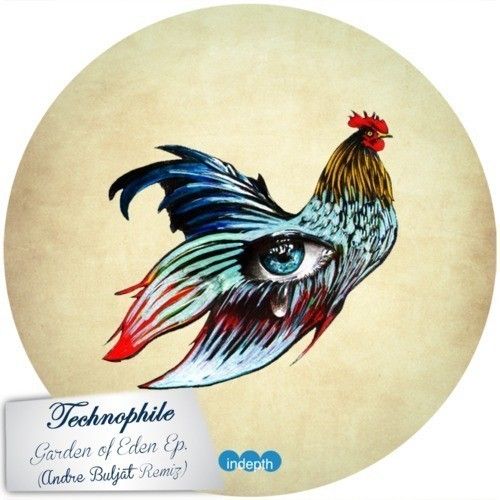 Technophile – Garden of Eden EP
If you are not familiar with Indepth Music, you will surely find that their passion and drive behind all of their releases is a foolish love of music. The Genetikal Twins' Italian imprint has hosted some great names in the past, counting on the likes of Marcus Homm, Jun Akimoto and Filippo Vicario to name a few. The label finally reaches its 27th EP by way of a Beruit based producer and one half of the Ronin & Nesta duo, Technophile. He drops the Garden of eden EP melding musical matter which defines the producer's unique sound, as cutting edge darker grooves and sexy deep tracks make up his overall voice. Garden of eden is a fine example of all these wondrous sounds that create such a memorable and dynamic artist.
Sparse and with a bit of experimental vibes is the title track Garden of eden. Presenting a rather minimal groove, the sound design and processing of ambience really make this one fill the air with palpable energy. Metallic and percussive, its drive and energy tell a story of promising dancefloor ammo. Getting even darker and more hypnotic, Tripping alone combines the forces of vocal choruses, menacing pads, and harder bass melodies to create one solid bit of deep and dubby techno. Andre Buljat remixes the third track in the EP as he takes Tripping alone out of its dark cocoon and brings a more old school and acid vibe to his rendition.
The finale for the release is Le plasir, a progressive and uplifting house track that paints a euphoric picture of weightless keys and drums. Using a sexy and smoky female vocal at key points throughout the track, Le plasir satisfies those at home or the opening Dj challenged to intrigue and indulge his audience behind the decks. Technophile's work is elegantly showcased in Indepth's 27th release, creating a perfect marriage of label and artist. As a rather early release under his Technophile name, the producer deems a promising future just beyond the horizon where his spiritual and intoxicating sounds run free.