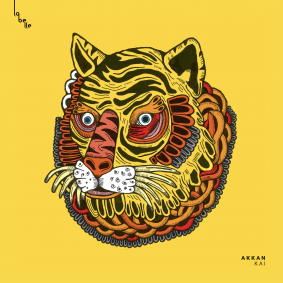 AKKAN - Kai EP
La Belle Records welcome back AKKAN for a new EP that will land one year after their last on the label, this time with remixes from the excellent Iñigo Vontier and El Buho
AKKAN is the Barcelona based production partnership between prolific natives BeGun and Ocellot. They came together after a magic mushroom psychotropic journey in the Kalahari Desert and that is reflected in their sounds which build on idiosyncratic and trippy melodies and ethnic rhythms.
Fantastic opener 'Kai' is another enthralling trip into occult sounds, organic percussive patterns and colourful synth lines. The rolling drums set the groove with the elastic chords and nagging drones hook you in as bird calls bring an open air feel.
On the flip, the brilliant 'Yuri' sinks down into a spell binding deep house groove with rubbery kicks, jumbled percussion and nocturnal pads that are majestic and arresting. It speaks to psychedelic desert trips and will stand out in any set.
El Buho is the Paris based producer from Wonderwheel Recordings who mixes up Latin American rhythms, digital effects and a world of found sounds and instruments into a superbly slow motion beatdown track. Elastic bass is strung between lazy kicks as cosmic keys drift up through the mix, making for a dreamy, organic and soothing cut. Next up scene-defining Mexican artist Iñigo Vontier from labels like Turbo Recordings, Correspondant and My Favorite Robot remixes the same track into something equally magical. It is roomy and organic, with shimmering chords and suggested rhythms sucking you in and carrying you away.
All four of these tracks truly take you on a journey into woozy states of mind.
Tracklist:
1. Kai
2. Yuri
3. Kai (El Buho remix)
4. Kai (Iñigo Vontier remix)