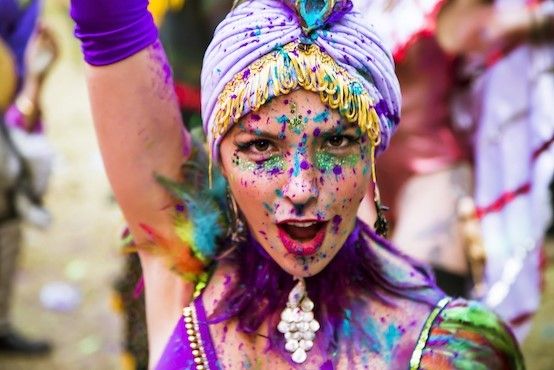 Kansas Smitty's Mardi Gras
Get your sinning done February 20th & 21st at London's biggest and best Mardi Gras party. Have a shake to Kansas Smitty's New Orleans beat and lose yourself with Shotgun Carousel's wildest carnival performers. Join the second line parade along the South Bank, hear the best jazz this side of the Mississippi, experience the incredible subterranean Vaults and discover what other secrets lie in wait for you. Will you be crowned king or queen this year? laissez les bon temps rouler!

Mardi Gras is coming.Two days of glorious, divine carnival fun.
The Big Easy herself is arriving in London in an explosion of light, colour, dancing and a whole heap of hedonism. Join the second line of London's very own Krewe de Boudica and parade along The South Bank with the unforgettable sounds of The Kansas Smitty's House Band leading the way. In a spectacular collaboration of sights and sounds, Kansas Smitty's will be joining forces with theatrical events company Shotgun Carousel, who will bring their infamous cavalcade of dancing beauties to the parade and also host their notorious Voudou inspired carousel in the second room.
Last year's sell-out Mardi Gras was way too much fun, so this year we're running it over two days! With three rooms and with the help of a few choice conspirators, we decided to throw a Mardi Gras that our city can be proud of. We've chosen the iconic South Bank to begin the festivities, parading down the banks of London's very own great watercourse and rival to the Mississippi, the River Thames.
Get your ticket in advance and before the event we'll be in touch with the secret start location for the parade and where to join the Krewe de Boudica's second line. You can two-step prance and sway your way into The Vaults where the festivities continue as the House Band take to the stage with an incredible live show. We expect you to go gonzo.
Since their formation in 2013, Shotgun Carousel have performed at Art Deco cinemas, underground bunkers, secret speakeasies and glamorous masquerades in London and all over the UK. The company is a menagerie of dancers, actors, musicians, magicians, puppeteers, writers, directors and producers of exquisite skill. They have taken shows to festivals such as Latitude and Wilderness festival, and have been featured in Vogue Magazine and The Huffington Post to name a few.
Kansas Smitty's don't do dress parties – but when we do… we mean it. Dress up, dress down, dress sideways but whatever you do, let the carnival spirit enter you and get your sinnin' done with us.
For all the latest news please check in at:
http://www.kansassmittys.com
http://www.vaultfestival.com/project/mardi-gras/
LISTINGS INFORMATION:
WHAT: Kansas Smitty's Mardi Gras 2015
WHERE:The Vaults, Leake St, London
WHEN: Friday 20th & Saturday 21st February
TICKETS: £20